The Floor Standing Automatic Hand Sanitizer Dispenser also be called as Sanitizer Stand, Sanitizer Dispenser stand, automatic hand free soap dispenser, or metal stand for hand sanitizer diepenser, which is widely used in school, hotel, church, factory, office, supermarket, shopping mall and other public area, provide a good solution for public hygiene with its efficiency and convenience in hand washing and disinfecting.
Hshelf Retails solution company, as a professional modern commercial equipment & Retail Shopfittings manufacturer in China, have more than 15 years' R&D experience in shop fittings and display products, respond quickly after the virus spreaded in china at the end of January and designed a new floor standing hand sanitizer for our customer to protect their staff and customer.
The sanitizer stand HD1508 is a high-end solution to display the auto sensor sanitizer, which is structured by a sturdy metal base and adjustable aluminum post, and the integrated top panel with drop tray is made by ABS plastic and allows you to display important information or print your logo, with a connected drop tray for any spills.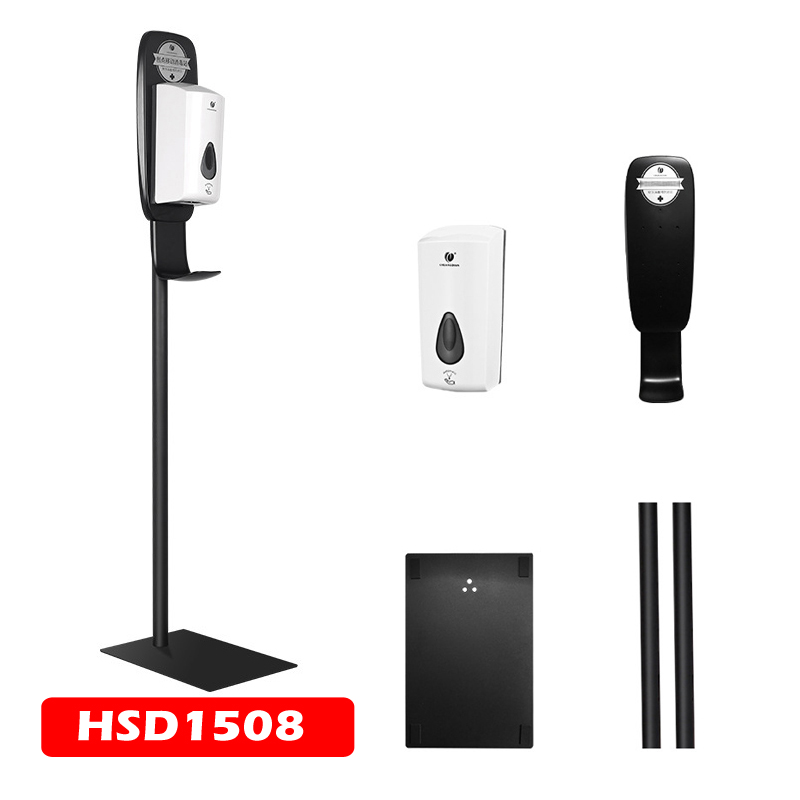 The sanitizer dispenser is fixed on the top panel and the body of the machine is made by ABS plastic and designed to nebulize hand sanitizer or alcohol, to provide automatic dosage of spray, which enables a quick and easy hand disinfection and eliminates cross contamination, achieving optimal hand hygiene. It is powered by 4 pack of C batteries (Note: batteries and adaptor are not included in this product), a reliable device with a longer life more than 30,000 times of running.
The Virus COVID-19 has been affecting people's daily life for several months and seems still need more time to kill it all around the world. So it is better to take care of it at every detail. The free standing hand sanitizer dispenser stand with drip tray is a creative idea for all of us at this special moment or after lockdown, No matter you are wholesaler or business owner, it is the right product for you to protect you staff and your customers.
In the past several months, Hshelf becomes the major supplier for hand sanitizer dispenser with floor stand in China, we sold out more than 40,000 units to USA, UK, Italy, Australia in March & April. please contact us today by info@Hshelf.com to know more about the free standing hand sanitizer dispensers.