Many people complain of their kitchens not holding enough accessories. But, have you ever thought of the ample storage under your sinks? Well, to many people under sink space is not important. The truth is that the space available beneath those sinks can accommodate a lot of accessories. You need an under-sink storage rack to utilize the spaces beneath those sinks. For the best experience, you need to have the best under sink organizer.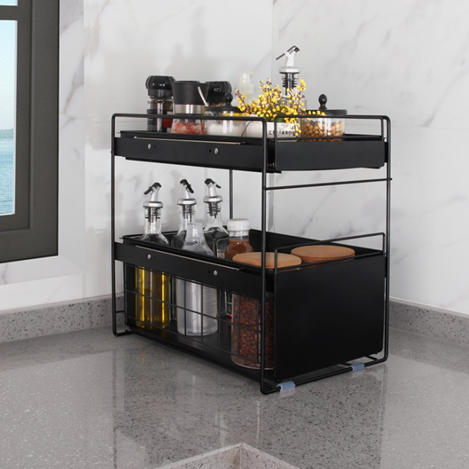 How do you choose the best? They come in all shapes to allow maximum versatility. The best under sink storage racks also need to offer hassle-free accessibility of stored items. Moreover, these storage racks under your sink should boost the aesthetic appeal of your kitchen. Also, you need to ensure that these under the sink storage racks are expandable to ensure a perfect fit according to your kitchens set up.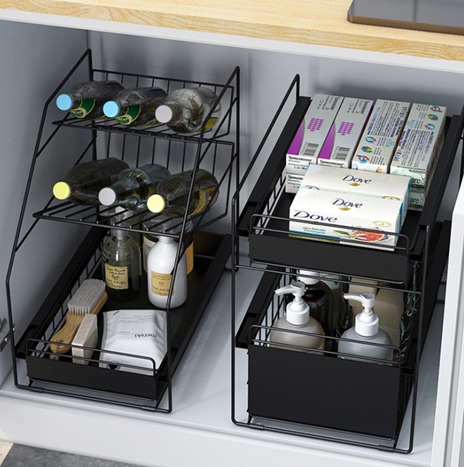 There is no space to waste in your kitchen. With this under sink storage racks, you can manage your limited space wisely. The under the sink rack cabinet organizer is a great thing to pick. It features a stackable design that allows you to put multiple units without consuming extra space of your kitchen. Besides, it features steel pipes to ensure the framework is unshakeable. Also, it boasts a black paint finish that takes its aesthetic value higher. Apart from enhancing its beauty, this special coating makes it rustproof to ensure maximum survivability in your kitchen. The feet feature anti-slip material. So, it won't scratch your floors in any way.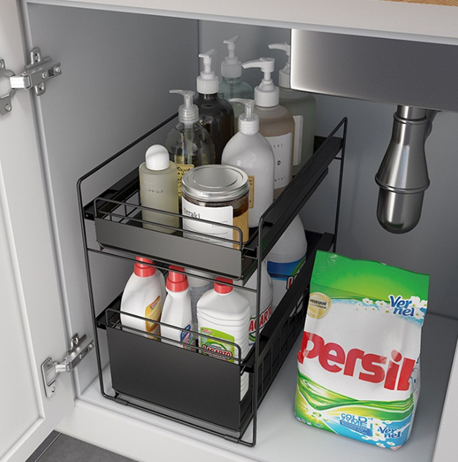 Well, this is a great tool to ensure you make the best use of the available space in your bathroom, kitchen, office and more.
Features
1. Kitchen and bathroom storage racks: 2-layer racks provide additional shelving and space utilization solutions; it helps save space and makes your countertop cleaning easier and more effective. It is a good helper for the kitchen organizer. It can be used for sinks, cabinets, countertops, and also for bathroom organizers under sinks or countertops.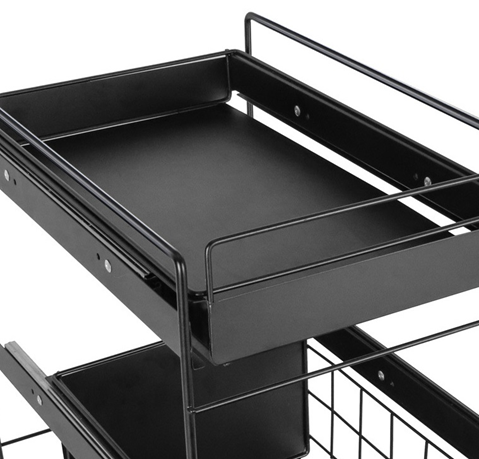 2. Sturdy design: The storage box adopts a sturdy metal structure, black paint surface, rust-proof, easy to wipe and clean. The metal structure ensures that the product is durable. ; there is a silicone pad at the bottom to prevent the rack from sliding.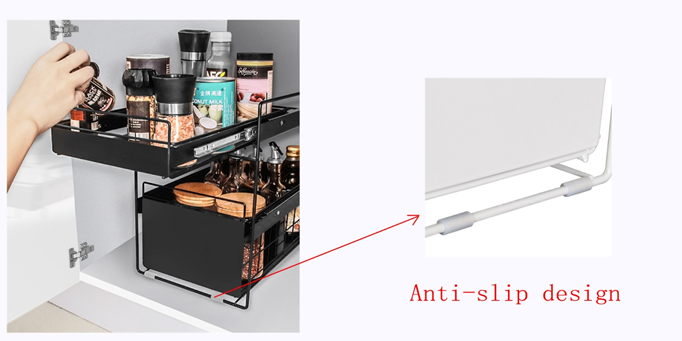 3. Sliding drawer design: pull out the seasoning rack, push and pull smoothly, and take things conveniently and quickly. Plus, the shelving unit has a drawer that pulls out - no more getting down on the knees to find that rarely used product that is in the back!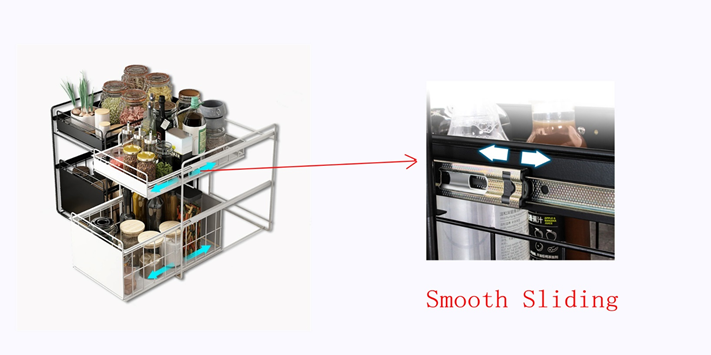 4. Easy to assemble: easy to assemble, installation can be completed in minutes.
5. Multifunctional storage rack: This rack can be used as a spice rack, towel rack, vegetable and fruit basket, beverage and snack storage rack, desktop small bookshelf, desk file tray, toiletries storage rack, cosmetics storage rack, etc. You can easily take out the contents of your cabinets, countertops, cabinets and work spaces.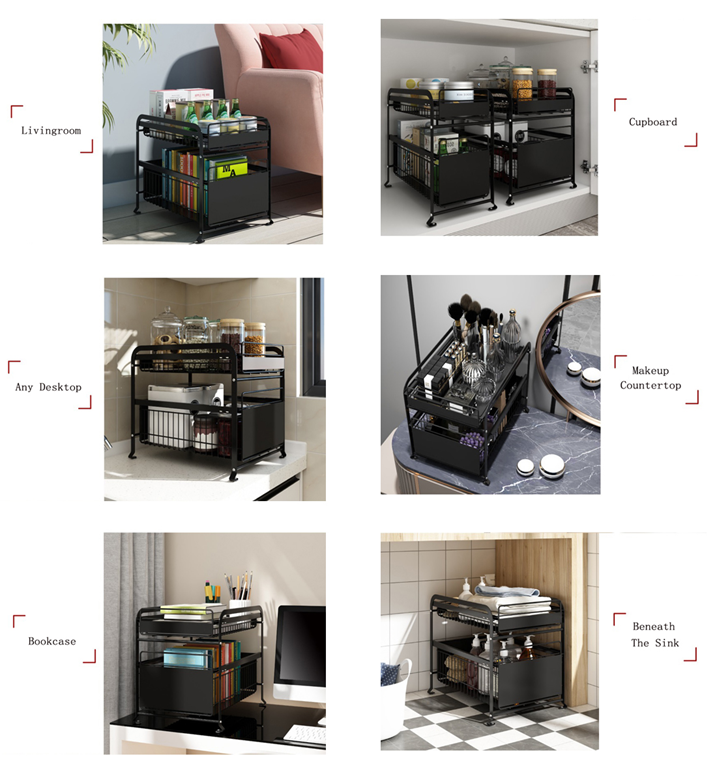 Choosing us, you can be excited with our high-quality products and considerate service from our teams.
engineer@Hshelf.com