The Retractable Tunnel Queue Management System also can be called Sliding Canopy, Sunshade Channel, Awning Channel, Entrance Tents for Retail Stores, Entrance Channel for Schools, Waterproof Shelter, Folding Canopy, Portable Canopy, Outdoor Shelter Tents, Pull Out Walkway etc.
The Retractable Tunnel is composed of two parts - PVC fireproof coated fabric cover and Internal galvanized steel frame. Its size is 7000L x 2000W x 2300H mm and all other sizes can be customized. The Outdoor Shelter Retractable Awning has good qualities of fireproof, waterproof and sunproof, which make it very suitable for using as the entrance channel of the retail stores, schools etc. Also, it can be used as outdoor garage and outdoor restaurant if made with larger sizes. There are many transparent windows set at the two sides wall, which made the channel bright. There is no need to worry when it comes to the assembling issue. The Tent will be well-assembled when you get it and you only need to pull it larger, then it works.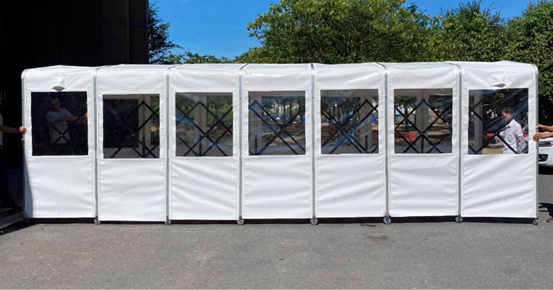 Material

Flame retardant PVC coated fabric cover
+ Galvanized steel frame

Size

L7000 x W2000 x H2300, customized

Used in

Retail Stores, Schools, etc.

Function

Portable sunproof, waterproof and fireproof Channel Tent

Stability

Brake wheels + Weighted Anchor Bags

Logo

Customization available

Color

White, transparent windows

Window Size

W850 x H800 mm
Features
1. Having a good quality of fireproof, waterproof and sunproof. Our Retractable Tunnel is produced with high quality PVC coated fabric cover, which has great performance of rainproof extremely suitable for countries or cities often rains. Meanwhile, the fabric cover also can apply Flame retardant PVC coated, adding more safety for using. Last but not least, the Channel Tent also can be a sunproof shelter, especially useful when people are queuing at the entrance of supermarkets, schools, stores etc.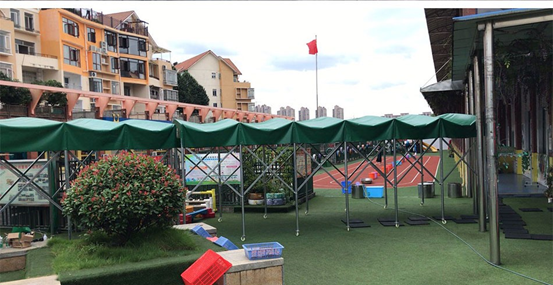 2. No need assembling with pull-and-push design. Convenient and effective. For more convenient and portable usage, our External Shelter Queue System Tent is delivered with full assembling, which you don't need to assemble and use it directly when you get it. Moreover, the Outdoor Tent is developed with pull-and-push design. When you do not need it, it can be folded by simply push it to minimum Length, which is 400mm only, convenient for storage. When using, just pull it to the normal size.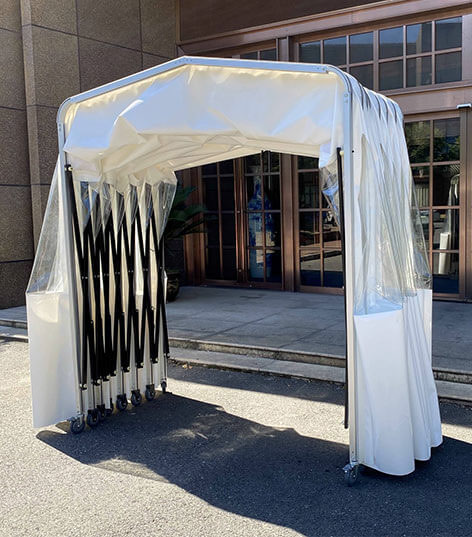 3. Able to slide with swivel wheels. For the stability issue, there is no need to worry about. Every wheels of the uprights are made with high quality brake swivel wheel. When you set the channel tent to the place you want, you just need to apply the brake. For more stability, we can provide the weighted anchor bags full with sands set at the 4 points.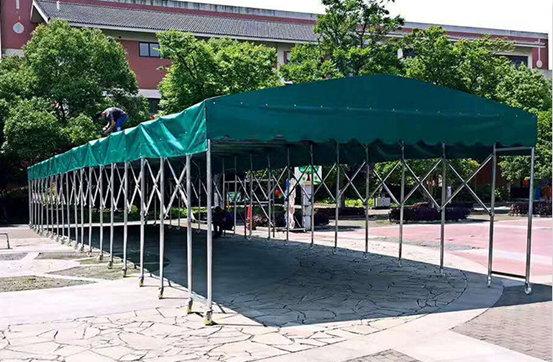 4. Transparent windows make the channel tent bright. The windows at the two sides of the Sliding Canopy are designed with transparent PVC material. The size of the window is H800 x L850 mm, which is big enough to let the sunlight in so that the internal space will not seem dark and depressing, making the channel bright and people who are queuing will not so anxious.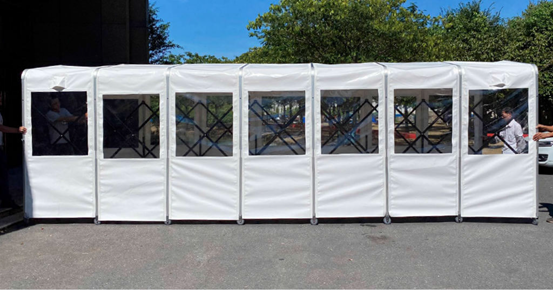 5. Multifunction used as Channel Tent, Outdoor Garage, Outdoor Restaurant, etc. Not only served as Outdoor Shelter Channel, the Pull-Out Tent also can have many other functions with suitable sizes. For example, when your car is parked outside your house and no room for two cars in the garage, our tent can be your useful outdoor garage for the quality of sunproof and rainproof. What's more, on the front and back, there is customization available for garage doors made of PVC fabric and Zipper combination, giving your cars protection from full sides.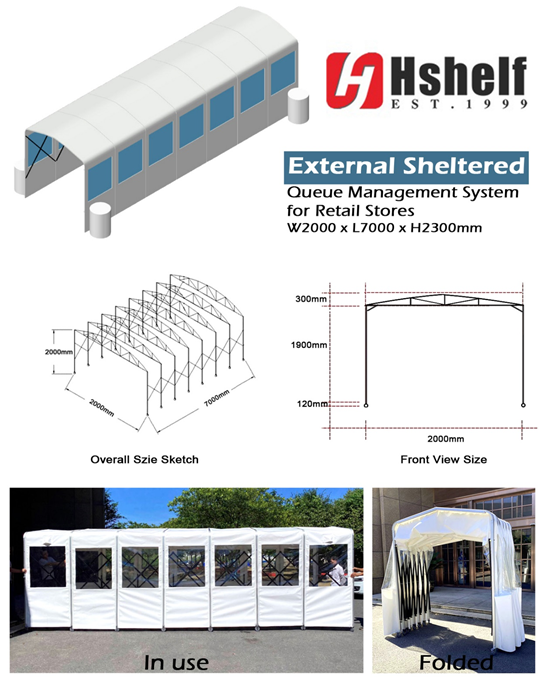 For more information about External Channel Tent, please feel free to contact us.
engineer@Hshelf.com