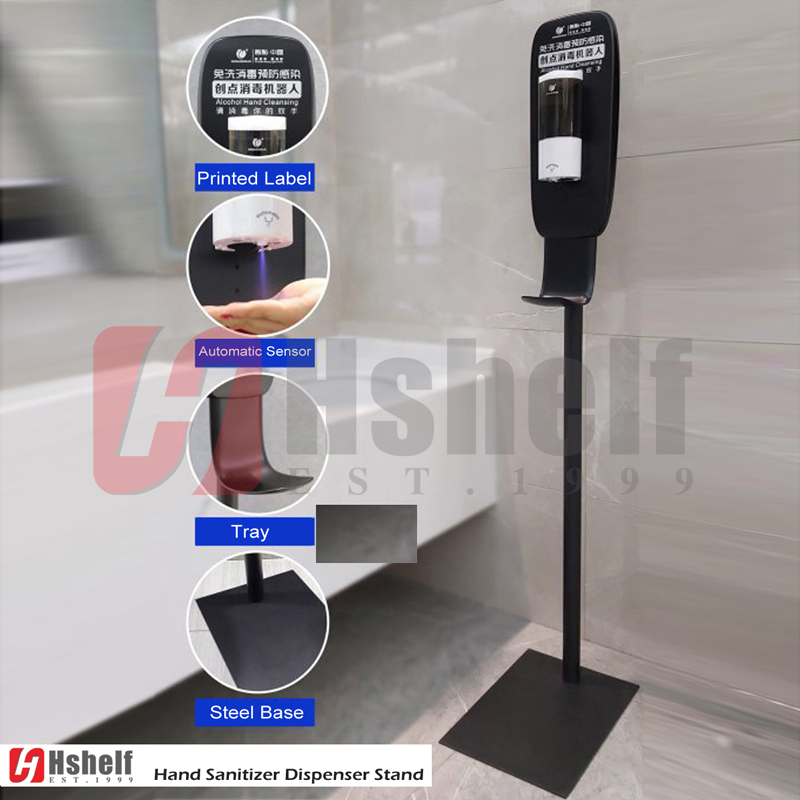 The Corona Virus(COVID-19) has been affecting our daily life for several months and seems still need more time to kill it all around the world. The free standing hand sanitizer dispenser stand with drip trayis a creative idea for all of us at this special moment, No matter you are wholesaler or business owner, it is the right product for you to protect you staff and your customers.

The hand sanitizer dispenser stand also be called sanitizer stand, automatic hands-free soap dispenser with floor stand or hand sanitizer stations free standing. It is widely used in hotel, guesthouse, office, hospital, airport, station and other public area, protect your business and customers by its convenience operation in washing and sanitizing.
The hand sanitizer dispenser swith floor stand is made by a heavy square base and adjustable post, the top information panel allows you to display important information to your customer and a catch tray for any spills. The color is powder coated black with tough durability and it can also be customized in other color with client's Logo printed.
The automatic dispenser body is made by ABS plastic and designed to nebulize hand sanitizer or alcohol, to provide automatic dosage of spray, which enables a quick and easy hand disinfection and eliminates cross contamination, achieving optimal hand hygiene. It is powered by 4 pack of C batteries (Note: batteries and adaptor are not included in this product), a reliable device with a longer life.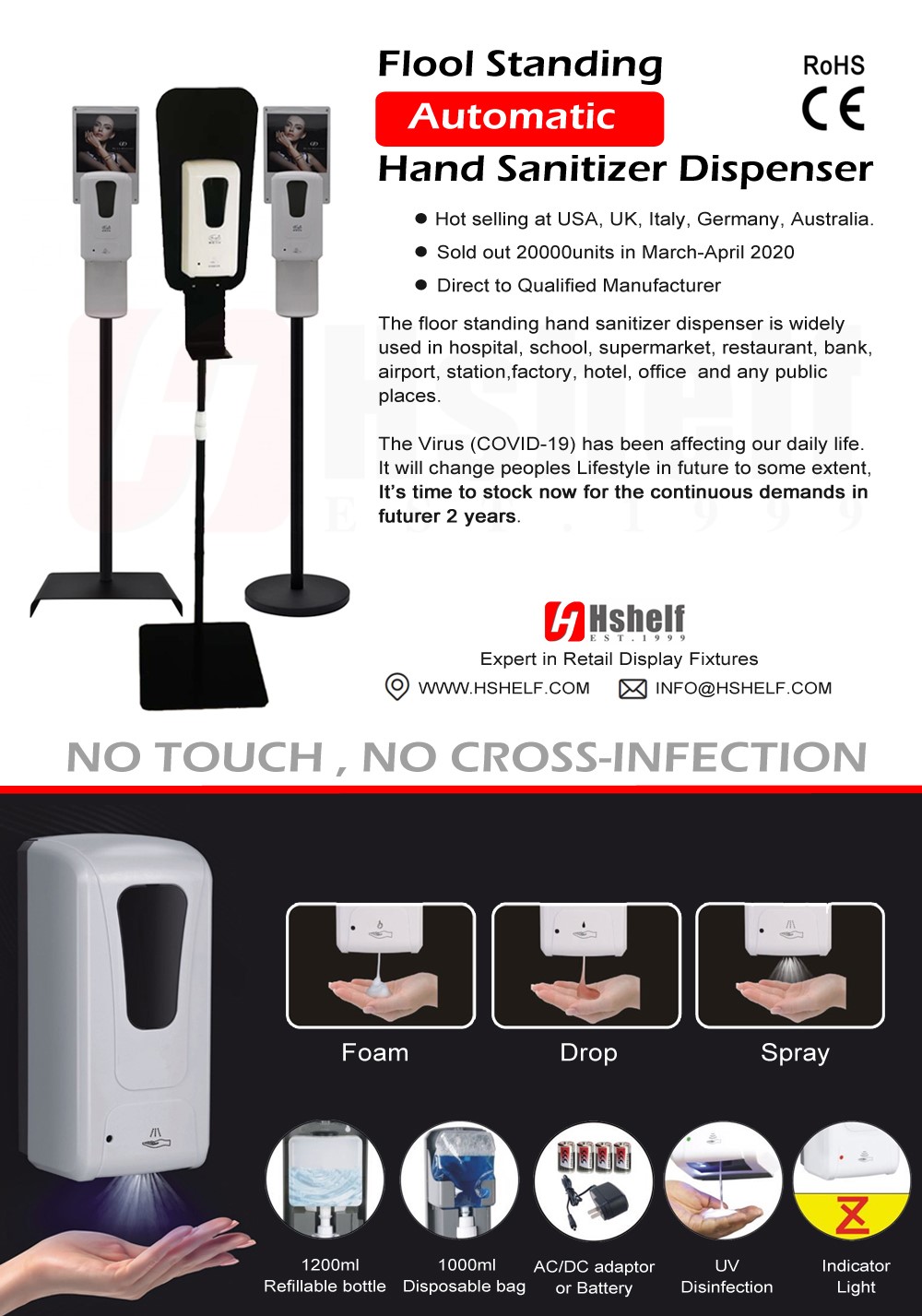 As a professional modern commercial equipment & Retail Shopfittings manufacturer in China, Hshelf have more than 15 years' R&D experience in shop fittings and display products. The metal hand sanitizer dispenser stand is the new product we developed to use in supermarket for people to wash their hands before they came to the mall and shopping, to reduce the risks of infecting the virus. This is the right product for you If you are looking for the sanitizer equipment for your shop & supermarket.
In the past several months, Hshelf becomes the major supplier for hand sanitizer dispenser with floor stand, we sold out more than 20000 units to USA, UK, Italy, Australia in March & April.
please contact us today to know more about the free standing hand sanitizer dispensers.
Frequantly Asked Questions:
1. What is the base size?
Most of our customer like the square base type, the size is 350 x 350mm, made by 4mm thick metal sheet, which is heavy duty style.
2. Is the height can be adjust?
Yes, the floor standing post can be adjusted from 600-1500mm. Can be used for kids.
3. What is your MOQ of the Sanitizer stand?
The MOQ of our hand sanitizer dispenser stand is 100 units. We can accept small quantity order when we have stock in warehouse.
4. Can I order the sanitizer dispenser only?
Yes, the sanitizer dispenser can use at washroom in home, school, hotel, supermarket or other public area and can be mounted at wall directly.
5. Do you have the hand push sanitizer dispenser?
Yes, we have. The hand push style is cheap, it's good for household use. For the public place, we suggest you order the automatic type with sensor to avoid cross-infection.
6. How about the package details?

The sanitizer dispenser, top panel and Metal Square base always be packed in one carton and the pole is packed in another carton, so totally 2 cartons for one unit and nearly 10KGS.

For wholesale quantity orders, we suggest to pack the small components in a package, to save the shipping cost.
7. How about your production ability, we want promote this stand at our country, can you meet our requirement?
The production ability on this product is 10,000 sets per month, and we have sold out 20,000 sets in last 2 months.
8. What is your production time?
The Production time for this display stand and sanitizer station is 15 days, but if the qty is bigger, maybe longer.
9. How long will it take from the order to my receipt of the goods?
It depends on where you from, the production time is 10-15 working days and it will take 15 days to Australia / USA and nearly one month to European countries by sea. And will fast by are but the freight is high.
10. What is your trading term?

Both FOB & CIF is acceptable here.

www.Hshelf.com


Our email: info@Hshelf.com