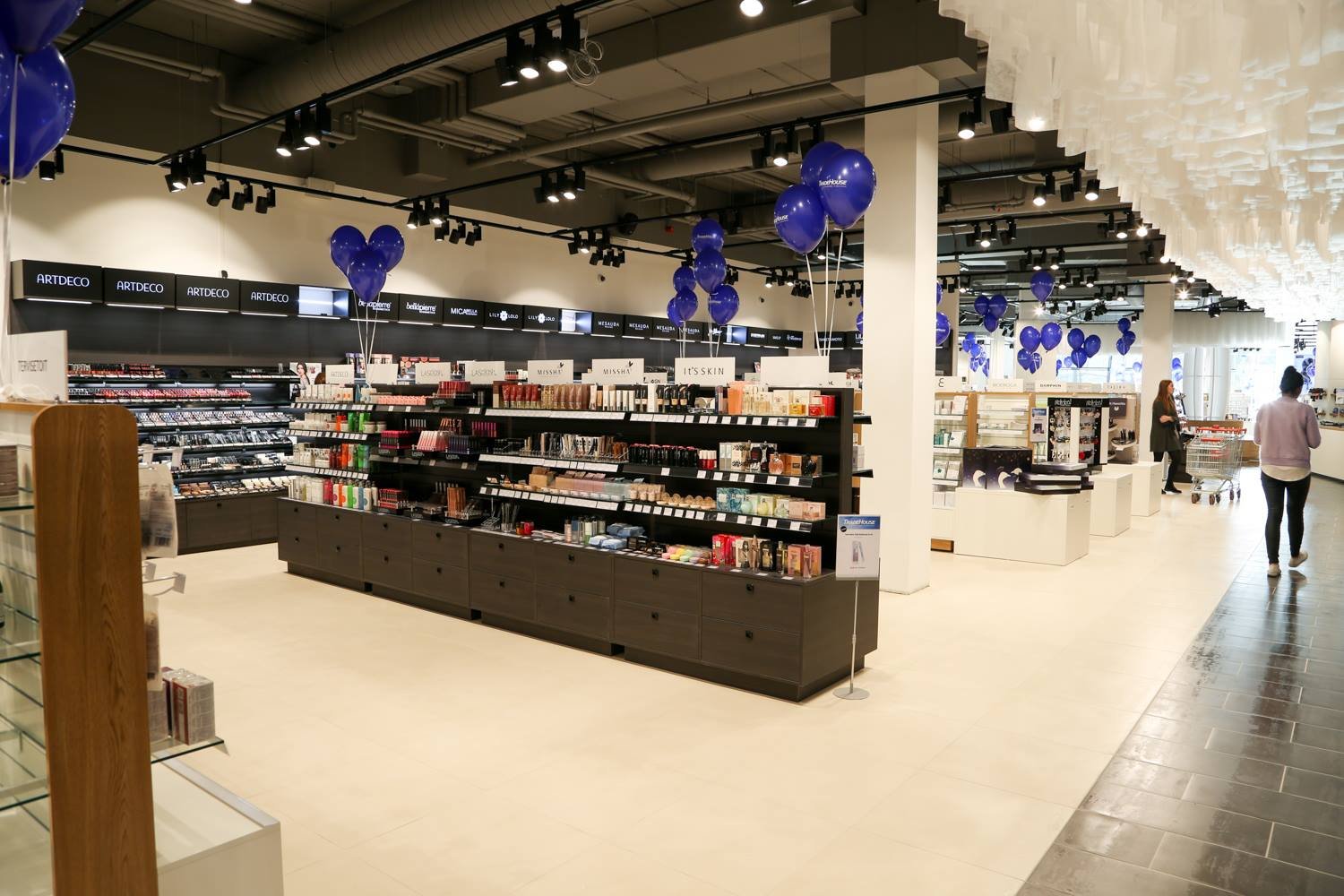 The environment, décor, layout and mood of a retail store means everything to shoppers. When a person walks into your store, he or she makes instantaneous decisions about the feel of the space and whether they feel comfortable enough to spend time there. The colors, lighting, and design of the space shape the consumers' moods. Details count. A well-chosen display is instrumental to the store owner to create an environment which engages the buyer and draws them to the merchandiser. The end result is a purchase.
When customers enter the store, what they see are mostly display shelving, display tables, display racks, etc., and some inconspicuous fixtures are often ignored. However, these fixtures often have a great impact on the environment and atmosphere of the store. In this blog, we are going to sum up some store fixtures that are inconspicuous but efficient.
Point of Sales Fixtures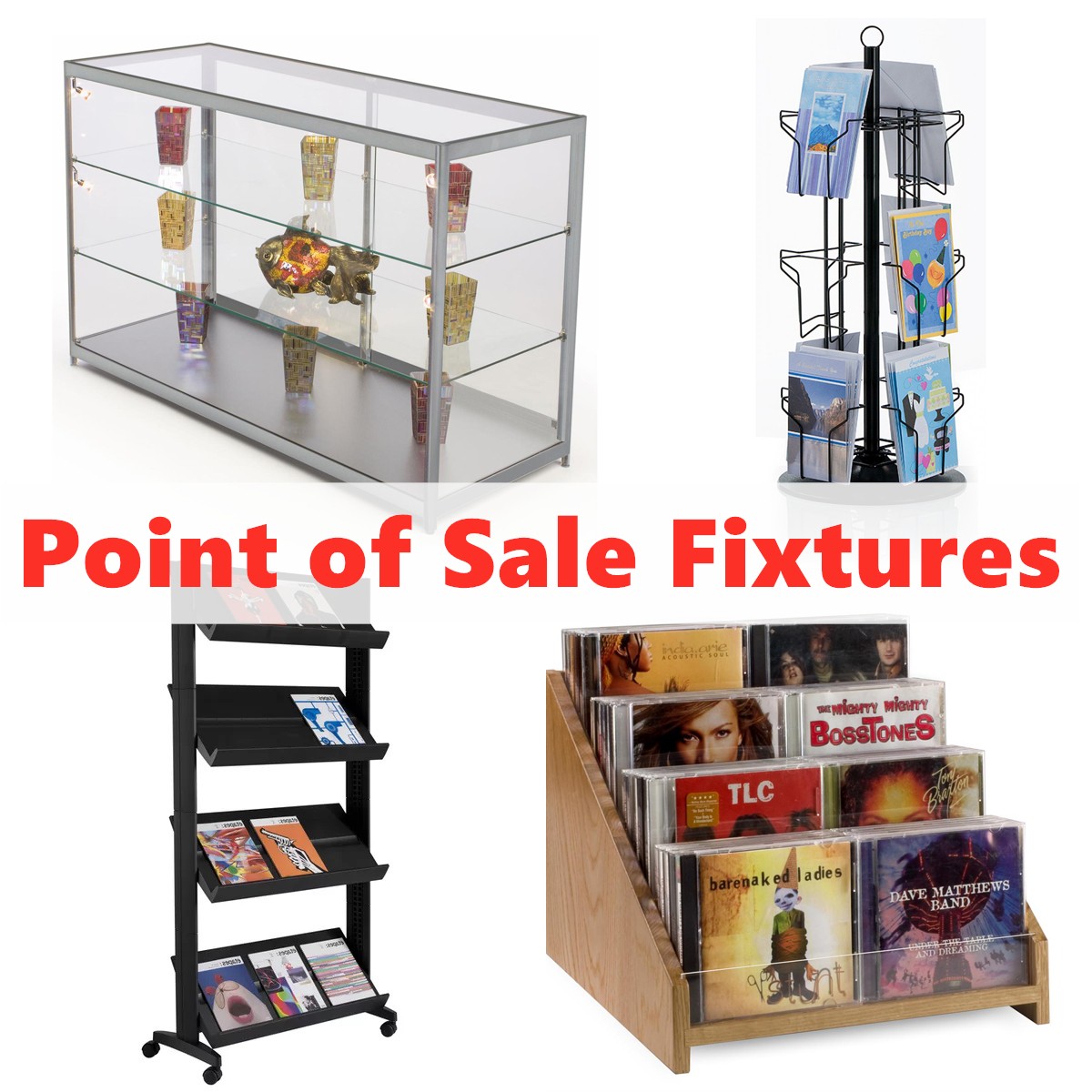 Take sales counter, or say display counter, as an example.
Point of sales counters are retail shop counters that can be used as extra sales space as well as serving the functional purpose of being the point where customers pay for goods. The idea of the point of sales counter is to draw customer attention towards products, e.g. new products, special offer merchandise or rare/valuable goods, while they wait to make their purchase. This is an optimal time to grab the attention of customers as they are stood in line and are often looking for a distraction.
Such counters have proved very successful in all kinds of retail environment and are a good way of increasing sales. Counters can be wooden units with space to accommodate small counter displays such as acrylic case displays, glass units with space to display valuable products behind a toughened glass case, or even a combination display. They can be placed anywhere in the store, whether that be right next to the entrance or at the rear of the store.
There are many other point of sales fixtures have the sort of same functions such as CD/DVD Displays, Countertop Display, Literature Racks, Tabletop Bins, Watch Displays, Jewelry Displays, etc.
Grid Wall Fixtures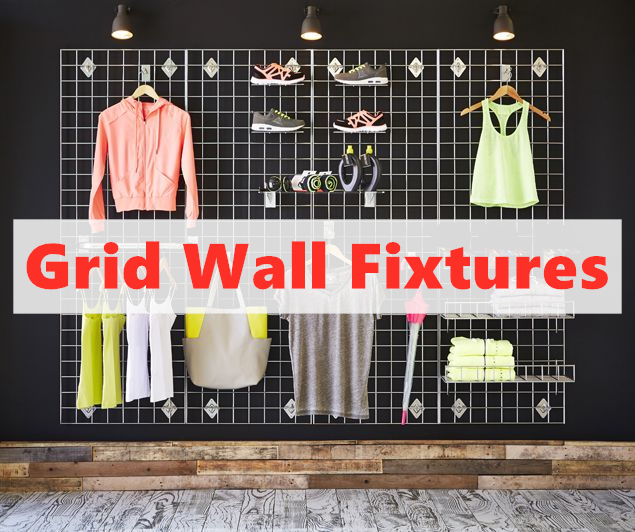 Grid wall fixture is often one of the most cost-effective ways to display a large amount of merchandise in a small space.
A Great Solution for Small Accessories – With a gridwall shelving system you can either hang small items from hooks on the wall, or you can utilize baskets for further organization. You can also assemble them as freestanding units for placement anywhere in your store.
Improves Store Security – Since the gridwall panels themselves are see through, you can use them in the middle of your floor space without sacrificing visibility.
Lightweight – Moving around gridwall is no problem since the walls are lightweight and portable.
Highly Configurable – The options truly are endless. In addition to using the gridwall for permanent fixtures, it makes an excellent choice for temporary or "pop-up" retail locations.
You can try different configurations to find the setup that is perfect for your retail space. You'll find no other fixture product that offers as many configuration choices as gridwall. Gridwall displays are clearly an excellent display solution for many businesses, both small and large.
Retail Lighting Fixtures for Shelving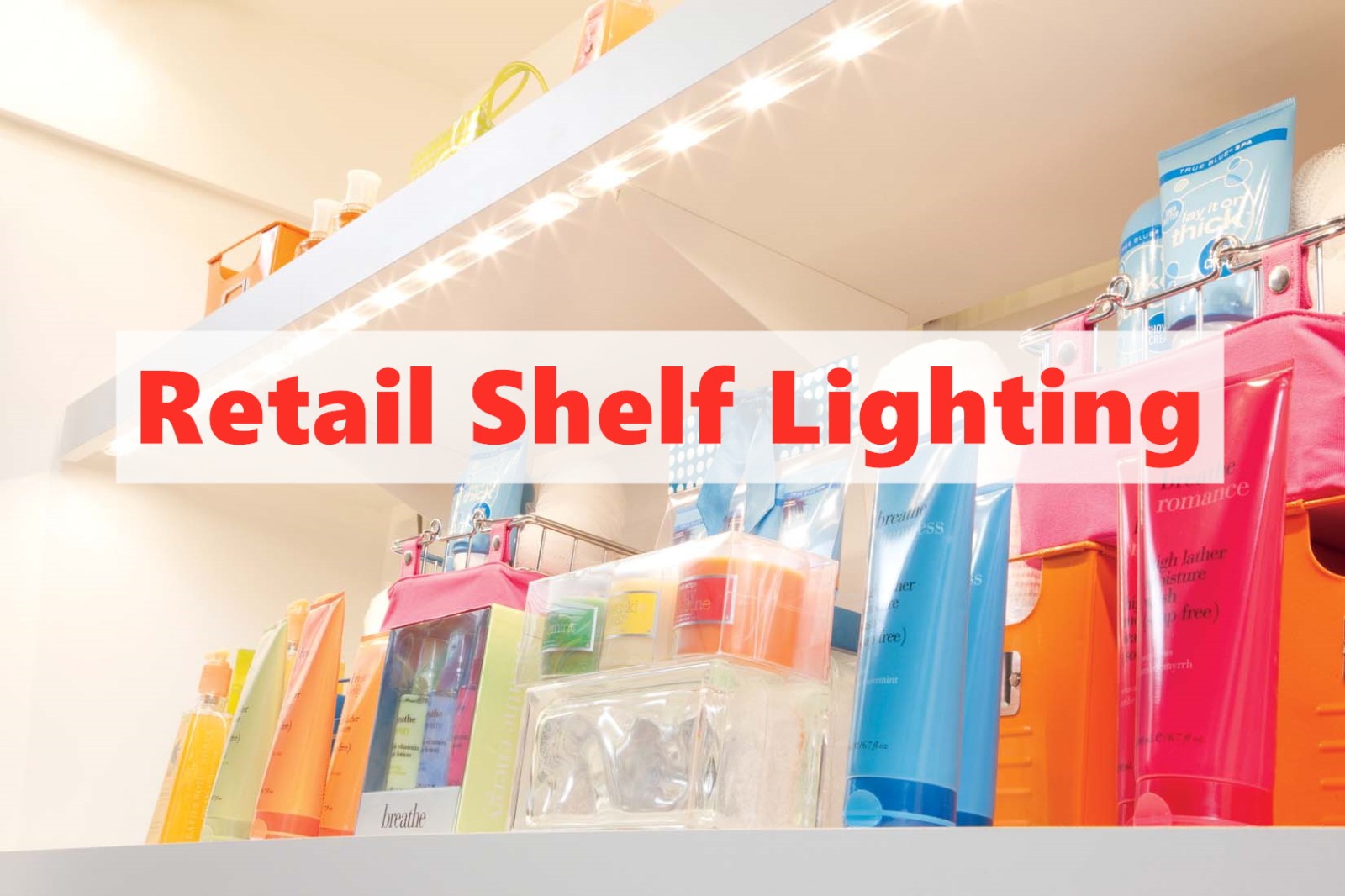 Designing your retail space isn't just about where to place your product displays. There are several other components which help create a well-designed retail space, with one of the most important being lighting.
LED shelf lighting in retail is one of the easiest ways to set yourself apart from your competitors by enhancing customer experience. LEDs enable you to showcase specific products, shelves, end caps, and display units to draw the attention of customers and help drive sales.
A great product display system will only take you so far. You can help your customers avoid behavioral paralysis – a situation where people are faced with too many choices – by using LED shelf lighting to focus their attention on specific products. It has been suggested that the right lighting can drive revenue and since LED lights are energy efficient and environmentally friendly, you can lower operational and maintenance costs too.
LED lights are small, bright, and illuminate targeted areas, which are all the necessary traits for lights to be used in retail spaces.
By using multiple sources of light in your retail store, it enables you to create contrast around your products – not only drawing your customers' eyes towards your shelves but making it easier for them to read the details of the individual products.
LED shelf lighting is particularly useful in stores such as supermarkets where customers want to read the labels on food products before buying. This type of lighting is also beneficial in shops wanting to highlight a particularly large range of products such as shower gel or shampoo.
Shopping Baskets with Wheels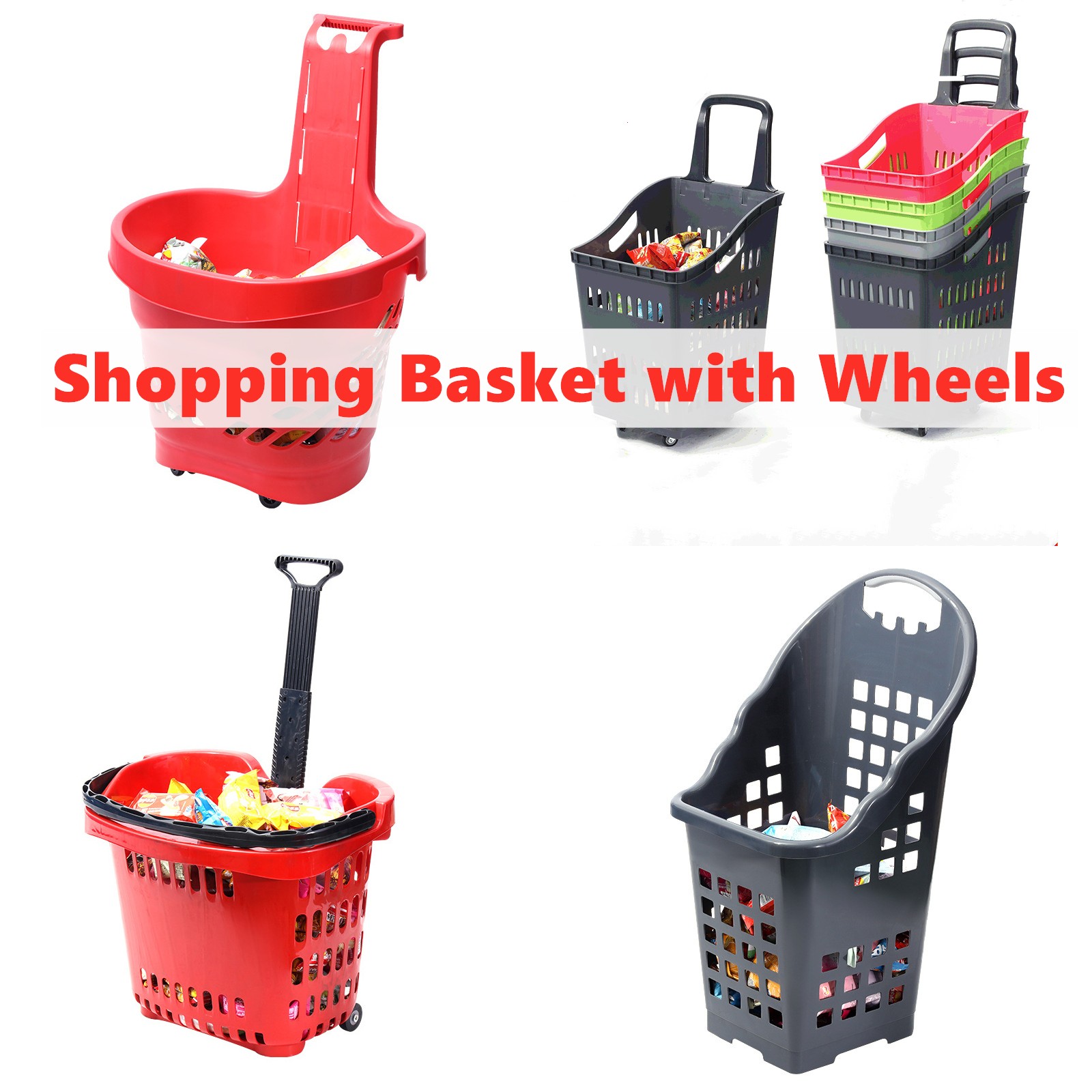 Quality shopping baskets are imperative to a positive shopping experience at your store. Ideal for customers looking for a few quick purchases, the baskets allow them to easily get in and out without having to push around a bulky grocery cart. A perfect addition to supermarkets, Fruit and Vegetable Stores, convenience stores, and any other retail operation where carrying assistance is needed.
l Versatile Design
The basket offers versatility by having two different methods of transport. A carrying handle allows you to pick up the basket and carry it like a more traditional basket. For heavier loads, a telescopic handle paired with rear wheels lets your customers effortlessly push or pull the basket behind them.
l Increasing Impulse Purchases
Shopping baskets are a useful addition to any store; place throughout your store for customers to quickly grab when a product catches their eye!
l Saving Space
Providing easy, space-efficient storage, plastic basket is stackable to take up less floor space in your store.
Merchandising Bags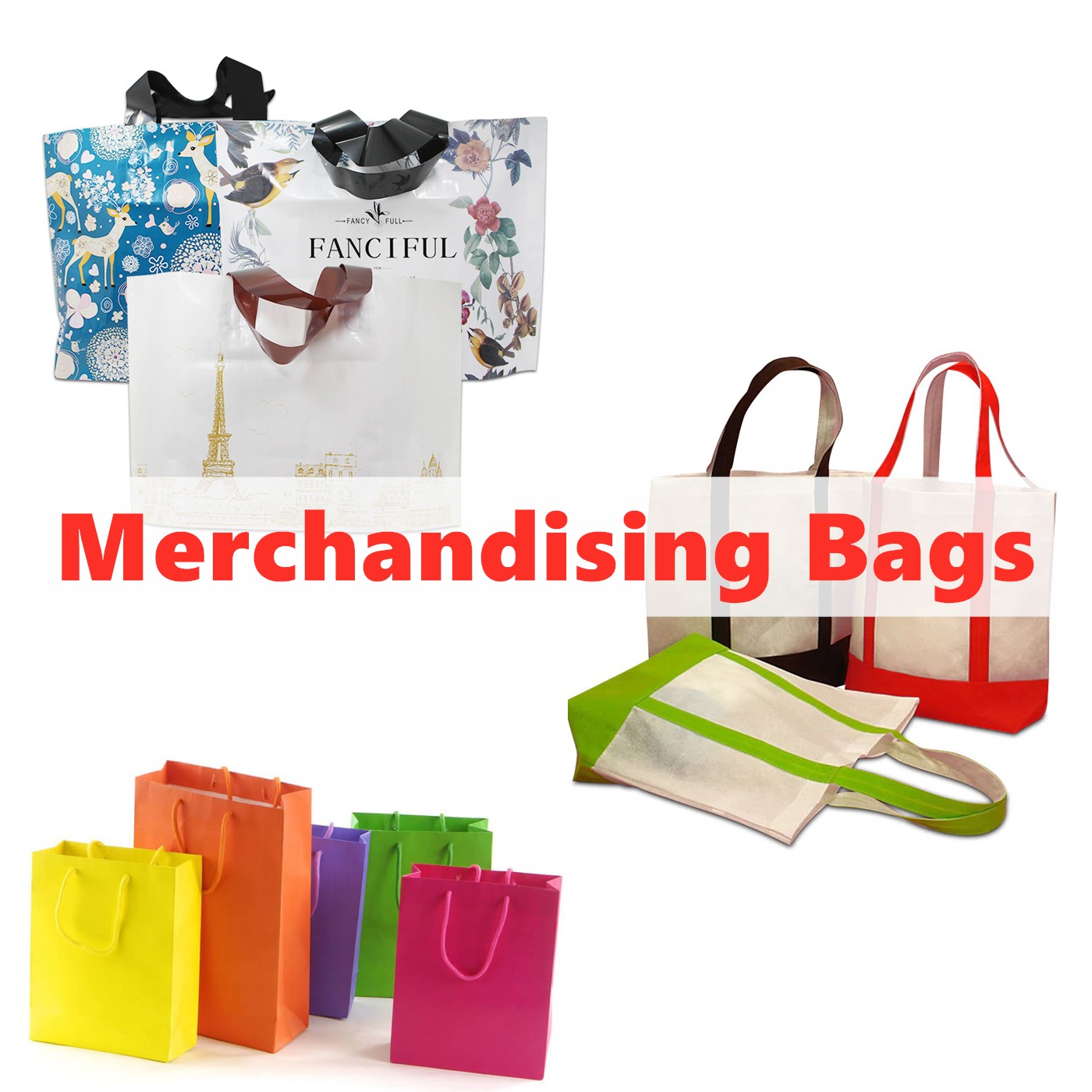 Shopping bags is an important step in opening a business. Bags perform a utilitarian service: They allow customers to carry purchased merchandise around. However, they can also be a key branding tool. When shoppers are out and about with a bag from your store, it's a great opportunity to raise awareness for your business. Mainly, there are paper bags, fabric bags, reusable plastic bags, etc. All things being equal, people are more inclined to those who have high quality, beautiful and reusable shopping bags.