(NOTE: MINISO is a Japanese-inspired lifestyle product retailer, offering high quality household goods, cosmetics and food at affordable prices. Recent years, MINISO becomes famous over the world, especially in Asia countries)
Planning the layout of your store is both an art and a science — it requires creativity, psychological insights, and testing. The success of MINISO depends on the life concepts close to people's lives, convenient shopping service and various kinds of commodities, but also on their elegant wood and steel shelving and rack, as well as the good store layout.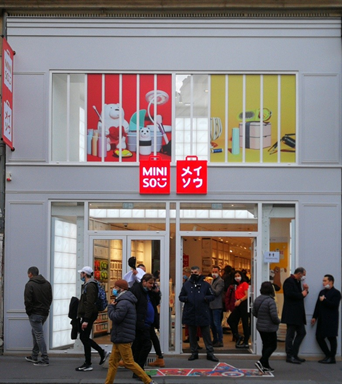 Anthropologists, experience designers, interior designers, brand managers, and data scientists have spent countless hours searching for the perfect bones and outer-layers of a store layout to optimize the raison d'être for retail spaces — also known as moving merchandise. Those hours of work have uncovered some amazing insights into human behavior that have developed into best practices for retail. For example, 90% of people turn right when they walk into a store. That's a mind-boggling insight into shopping behavior.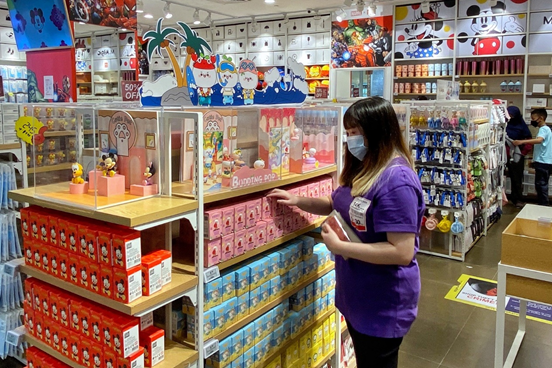 What's more, the draft of a store layout generally shows the size and location of each department, any permanent structures, fixture locations, and customer traffic patterns. A well-planned retail store layout allows a retailer to maximize the sales for each square foot of their allocated selling space. This is done by featuring merchandise in an efficient way that encourages customers to consider making additional purchases while they browse. The store layout should help to achieve that goal by guiding customers through the store, exposing them to product, all while managing important stimuli that encourages purchasing behaviors. How people experience your store is a big part of your brand that needs to be as carefully crafted as other aspects of your brand.

In this post, we're sharing some of the retail store layout tips to help your arranging of stores on the analysis of MINISO Stores Layout.
A Solid Floor Plan
Your floor plan plays a critical role in managing store flow and traffic. The choice of which one is right for you will depend on a number of factors including the size of your store, the products that you sell, and more importantly, your target market. A solid floor plan is the perfect balance of ultimate customer experience and maximized revenue per square foot. Many retailers miss this point. They simply focus on revenue and forget customer experience. Retailers who deliver on experience have higher revenues than those that don't—even if the square footage is comparatively smaller.
For most MINISO stores, the common one used will be: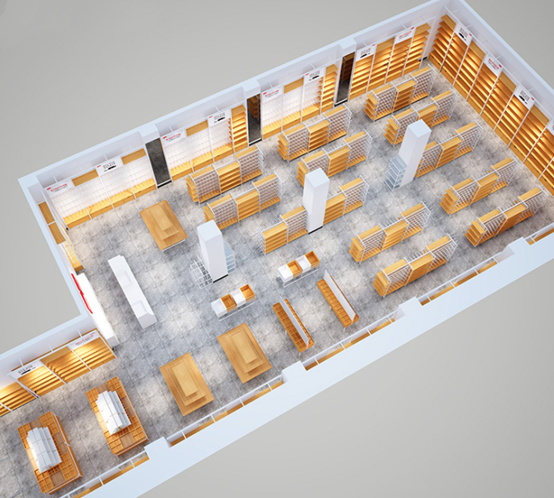 The straight floor plan is an excellent store layout for most any type of retail store. It makes use of the walls and fixtures to create small spaces within the retail store. This floor plan involves positioning shelves or racks in straight lines to create an organized flow of traffic. The straight floor plan is one of the most economical store designs.
An Appropriate Shopping Leading
There's quite a bit of debate about whether or not retailers should lead customers in a clockwise or counter-clockwise fashion inside their stores.
On one hand, some claim that since most people are right-handed, they instinctively turn to the right and explore the store in a counter-clockwise direction.
However, other studies indicate that shopper direction has more to do with their vehicle traffic patterns. Consumers in the UK and Australia for instance, drive on the left side of the road so they have a tendency to explore stores in a clockwise manner while consumers from right-hand driving countries like the US usually turn right when they enter a shop.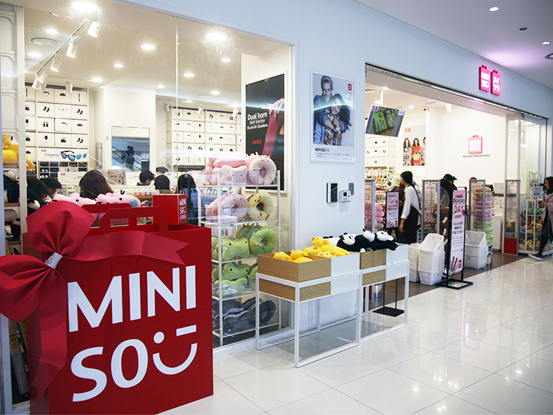 For MINISO stores, by observing the behavior and habits of customers, they will timely adjust the store layout and shelf placement. If them find that customers do indeed follow the country's vehicle patterns, then they'll know where to place new arrivals and other inviting elements.
Appeal to Multiple Senses
While the majority of a location's design is made up of visual components, other factors—including scent, touch, sound, and taste—can also make an impact on a store's look and feel. To create a truly immersive in-store experience, MINISO stores are designed to appeal to as many shopper senses as possible.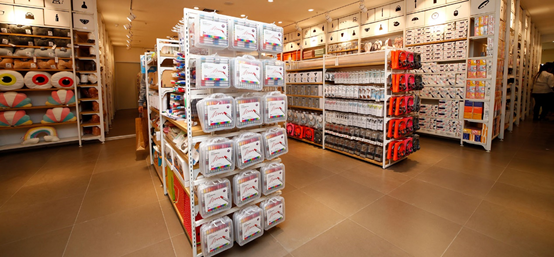 Sound
Pick your playlist wisely. Determine the atmosphere that you want to create and pick songs that enhance (and not overpower) the ambiance. Volume and beat can influence behavior, depending on who you're selling to. For instance, insta-famous music may work well for retailers that target younger shoppers. MINISO stores usually play influencer music that famous in Tiktok to shoppers, which make customers' shopping happy to some extent.
Scent
Use the scent to impress customers, which make them remember. Then, the next time they smell it, they probably will come in again. MINISO stores usually have their own cosmetic products or perfume, which will impress shoppers.
Touch
Having a "hands-on" vibe can enhance shopper experience. One way of doing this is to take out sample products from their boxes to let customers to touch them. MINISO stores often display their plush supplies or U-shaped pillow made of memory foam without package. Let customers take out and touch, feel the features that goods bring. Customers feel comfortable and satisfied through the touching, then their will buy it.
Hshelf provides not only various kinds MINISO style shelving and display rack, but also shop layout design solutions to help shop owners not worry any more.