Are you still worried about the fixture in the corner of the store? Still confused about not being able to make full use of every inch of the store? Don't let the corners in your store be wasted space. Utilize retail shelving corner units to make use of every inch of your store.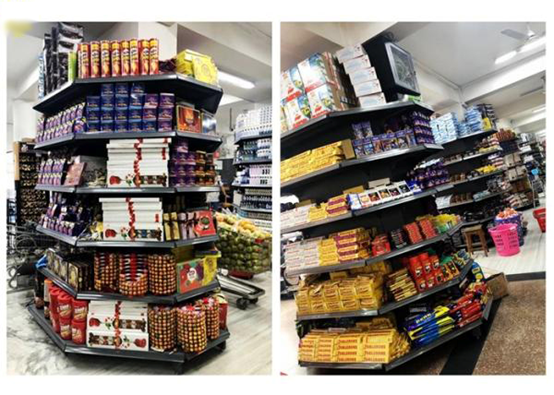 What is Corner Shop Shelving?

Corner Shop Shelving also can be called Retail Shelving for Corners, Internal/External Shop Shelving, Shelving in Corners, U-shaped Shop Shelving, Retail Shelving Corner Units, etc. Using Corner Shop Shelving is advantageous as not only does it create a slick, professional finish, but it also provides more retail space for products to be displayed. Essentially there are two types of corner shop shelving, internal corners and external corners.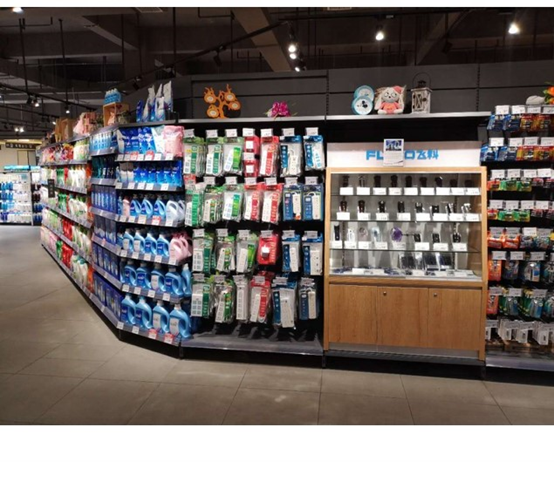 Internal corners are used to join two runs of wall shelving together to form one continuous run of wall shelving at right angles to each other, this can be extended further top include a third run to form a continuous U-shaped run of shop shelving.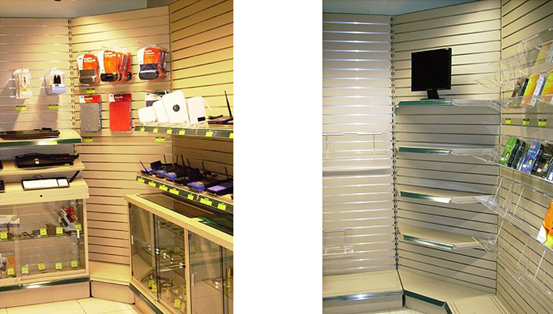 External corner units are available to join 2 runs of wall shelving around an external corner. The combination of internal and external shelving units can be used to design continuous runs of shelving along quite complicated wall shapes involving the use of corner shelving units.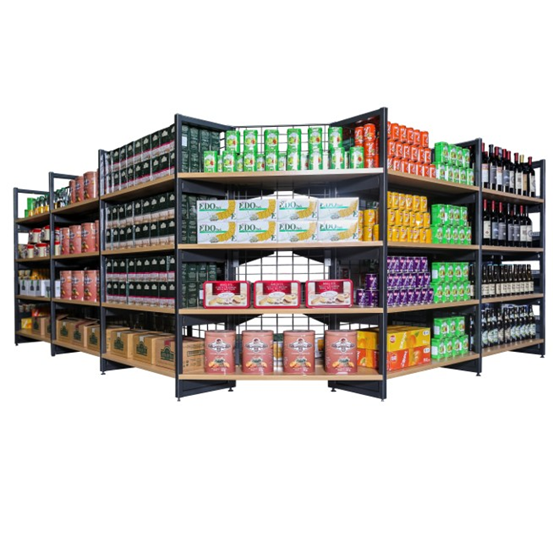 Why using Corner Shop Shelving?
This modular retail shelving external/internal corner unit permits the continuation of your retail shelving around 90 degree external/internal corners (where there are no existing obstructions) in your shop. Manufactured using strong steel with a durable, easy to clean finish giving a long-lasting display and storage solution for newsagents, stores and supermarkets.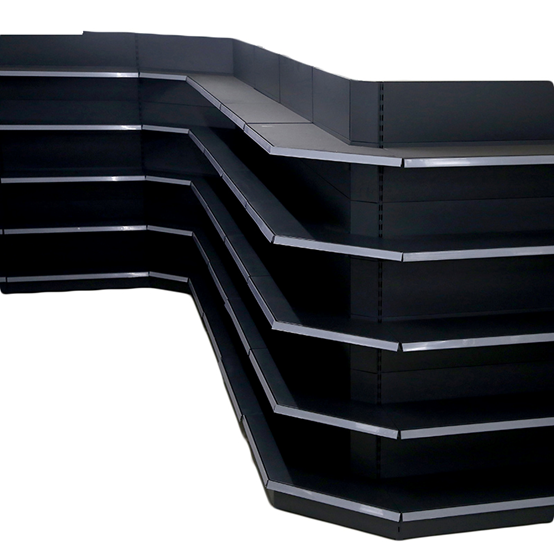 Utilizing this external/internal corner unit will create a streamlined, seemingly seamless, run of shelving around awkward external/internal corners. A variety of heights and shelf depths are available to match your existing shelving or whilst planning your new shop layout. This strong, easy to clean and durable unit is great for a large range of merchandise including supermarket stock, hardware and giftware.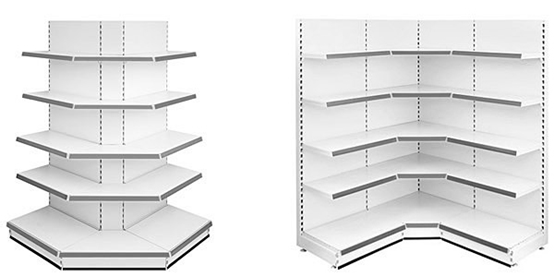 Features:
MAKING FULL USE OF THE STORE – Change your shop corners wasted place to workable displays.
NICE-DESIGNED APPEARANCE – Our Corner Shop Shelving creates a slick, professional finish, making your store more attractive.
MORE DISPLAY PLACES - Having more display place means more merchandises displayed, thus increasing sales indirectly.
SUPERIOR FINISH AND EASY-TO-CLEAN - All of our units and shelves have a high-quality finish. This ensures a long-lasting product and makes them easy-to-clean for hygiene.
EASY TO ASSEMBLE, EASY TO ADJUST - The units are simple and quick to install with only an assembly mallet required. The shelves are adjustable both in height and angle to maximize storage and display your products at their best.
SOLID STEEL CONSTRUCTION - Reinforced shelves and sturdy construction mean a high load capacity, and with the superior finish, our retail shelving units are built to withstand the heavy, day-to-day use that commercial shelving requires.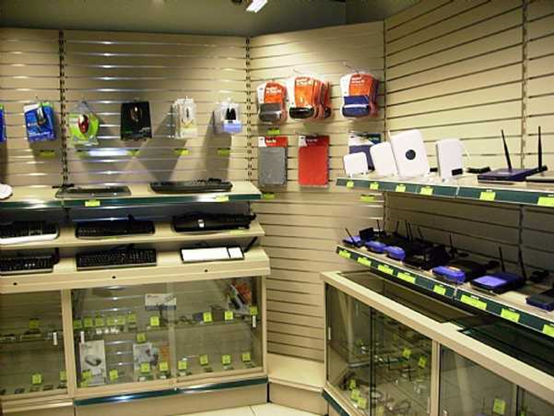 Hshelf is a leading Shelving supplier in Eastern China. With the Hshelf professionalism, it is not difficult to make your customers' shopping comfortable and practical!
engineer@Hshelf.com