Whether you are taking the leap into supplying fresh produce in your store or simply looking for an efficient way to display it, you should always consider the best way to share these products with potential buyers.
While still keeping factors such as health and safety into consideration, you should display your produce in an appealing way for buyers, making it irresistible for them to pick up fresh vegetable or juicy fruit. Making sure you have the appropriate shop shelving for your produce can be difficult, but here at Hshelf we have the best shelves at your disposal.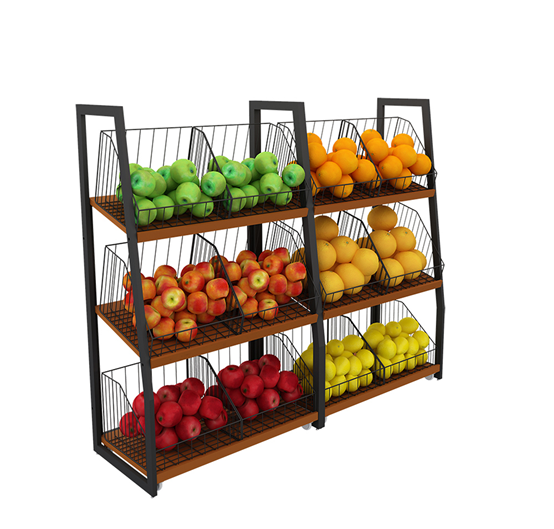 Fresh fruits and vegetables can be exhibited to your customers in the most effective way by Hshelf's fruit and vegetables display shelving units. Based on your store size and requirements, we offer you a wide range of configurations and designs for display of vegetables and fruits.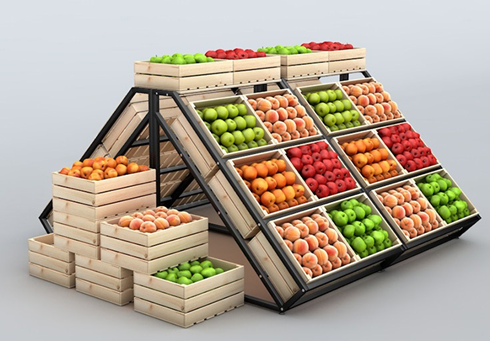 For metal parts of shelving units, it eliminates the possibility of deformation due to moisture in your grocery stores and provides an effective fruit and vegetable display area for your business.
Fresh fruit and vegetable department designed to enable your customers to shop effectively from your grocery stores; The display of your products can be displayed in a stylish way, while at the same time providing convenience to your customers with their ergonomic structure.
Modular units are available in both wall and gondola options that allow you to display gamut of vegetables and fruits. Materials we use are food-grade and safe for direct contact with vegetables and fruits and have high resistance to corrosion.
Our vegetables & fruits fixtures are available in a combination of wooden and metal designs that retains freshness and ensures high quality.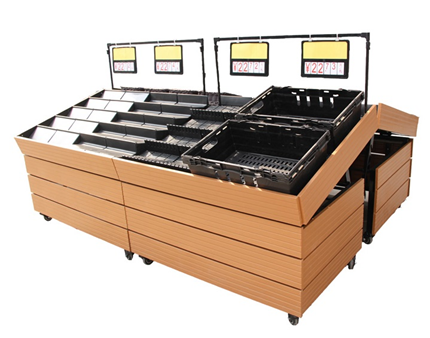 At Hshelf, we have the best shelves at your disposal, as well as tips and tricks for you to make the most of your fresh produce displays:
1. Maintain Consistent Freshness
Like with any product, make sure that you go through your fresh produce displays regularly to ensure that it continues to be of the highest quality. With retail shelving such as a slatwall fruit and vegetable units, you can easily have all your products in one efficient area, also making it easy for customers to pick up their goods.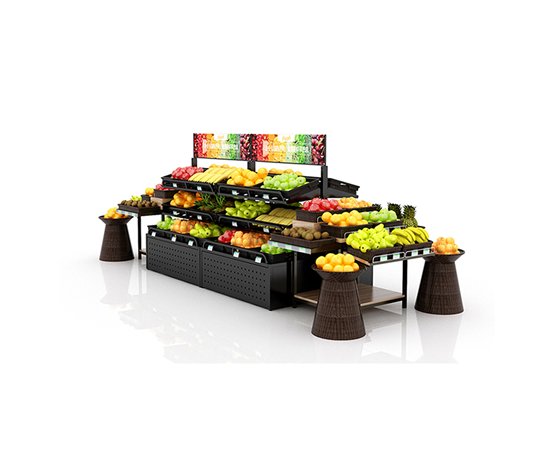 2. Cleanliness and Hygiene
Make sure your shelving has easy access and isn't difficult to rearrange and clean by choosing shop shelving which is easy to assemble. A unit which includes no nuts or bolts makes sure that you can easily take it apart to give it a thorough clean and make sure that no bacteria or germs get to your fresh produce.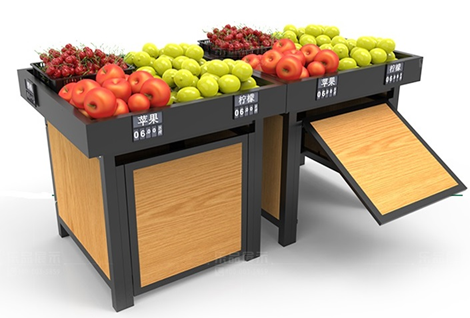 3. Location of Shelving
Be sure to keep all produce in a visible location, even from a distance, so your customers can clearly see where they should be looking for their fruit and veg. If not, make sure the area is signed appropriately. Fresh fruit and vegetables which will benefit from a slight chill so make sure the location you choose to display them isn't too warm.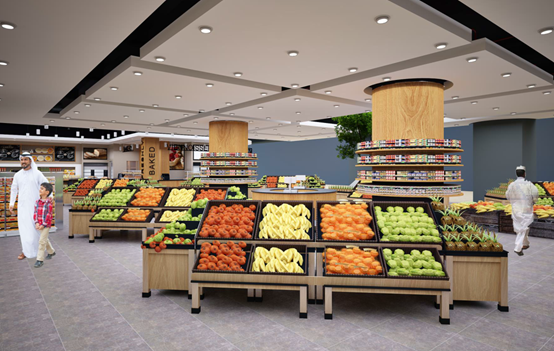 4. Make it Appealing
Even though hygiene is crucial when displaying fresh items, you also need to make sure your retail display is appealing to customers. For fresh fruit and vegetables, you could opt for a cleaner, more organized look.
Top Tips for Fresh Produce Display:
1. Keep items heaped up, filling every available space
2. Tilt containers and trays forward for visibility
3. Display something eye-catching to attract attention to your produce
4. Freshen up certain vegetables with a water mist throughout the day
5. Use smaller baskets if you have fewer items
6. Keep all fruit and vegetables in the same area
7. Don't place any products higher than eye level
8. Show names and prices clearly including fruit or vegetable variety if known
9. Provide small plastic bags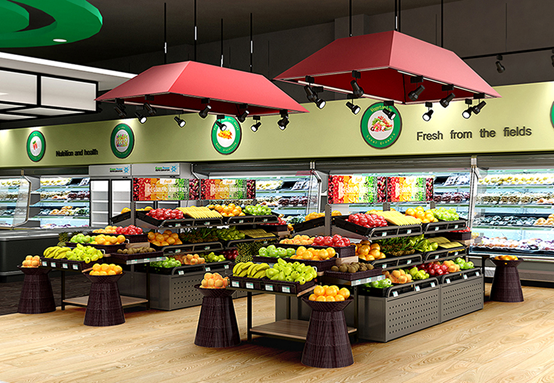 If you require retail shelving for your fresh produce, here at Hshelf we supply a variety of vegetable and fruit shop shelving to make your display of fresh produce the best it can be!
engineer@Hshelf.com