Quality shopping baskets are imperative to a positive shopping experience at your store. Ideal for customers looking for a few quick purchases, our baskets allow them to easily get in and out without having to push around a bulky grocery cart. A perfect addition to supermarkets, Fruit and Vegetable Stores, convenience stores, and any other retail operation where carrying assistance is needed, even when you go picnic with families.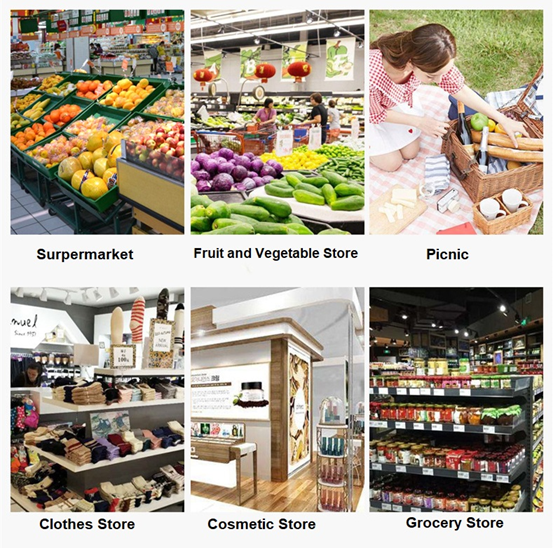 It is doubted that plastic is not as resistant as metal, and the truth is that it is possible that it may reach the same level of resistance. But in the case of shopping baskets it definitely reaches the necessary resistance needed. Especially when premium quality plastic is used, which applies to our case. Moreover, a part from the resistance to carrying objects without breaking, we can add the resistance to climate. Plastic adapts perfectly to countries with high humidity or with rainy conditions. This is due to not getting rusty in the case of storing the baskets outside.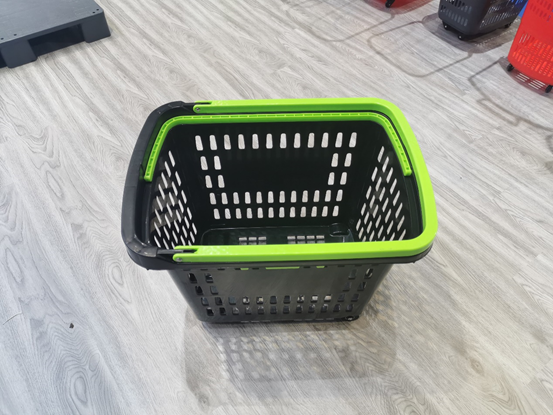 Another positive aspect about plastic is the weight. As it is less dense than metal, plastic is lighter and easier to maneuver. This aspect is fundamental, especially for our hand baskets (100% plastic). Clients will deal with a light basket and will only notice the weight of the products he stores in it. This way the client will be able to enjoy a comfortable and peaceful shopping experience.
6 Reasons for you to Choose Hshelf Plastic Shopping Baskets
1. Durable Structure
Constructed of durable plastic, plastic baskets are both resilient as well as lightweight. The design of the basket does not allow for any water build-up, making it capable of being kept outside of your establishment as well as inside, without worry of water being tracked inside. For added convenience, the smooth plastic construction is also easy to clean and maintain.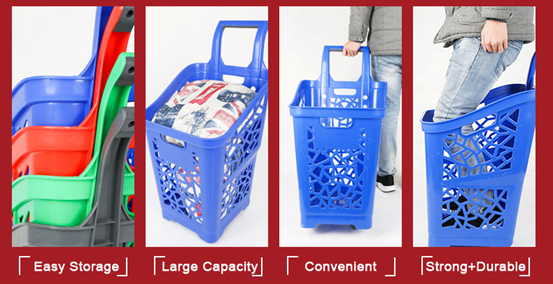 2. Eco-friendly Material
Not everything lasts forever. This is the motive that brings us to use 100% recyclable plastic. Therefore, when a basket is too old to be reused it can be melted and made into another product without having to throw it away. This process also applies during the production process where the plastic that is left over of producing one basket is used in the production of the next.

3. Versatile Design
This kind of basket offers versatility by having two different methods of transport. A carrying handle allows you to pick up the basket and carry it like a more traditional basket. For heavier loads, a telescopic handle paired with rear wheels lets your customers effortlessly push or pull the basket behind them.

4. Various Sizes
With ample various size, 40 – 60 liters capacity, and light weight, plastic basket allows your customers to easily hold and carry a generous number of items.

5. Increasing Impulse Purchases
Shopping baskets are a useful addition to any store; place throughout your store for customers to quickly grab when a product catches their eye!
6. Saving Space
Providing easy, space-efficient storage, plastic basket is stackable to take up less floor space in your store.

Hshelf shopping basket with wheels is just what your shoppers are looking for!