Sneeze guard is also known by the name protective barrier & protection screen & desktop protective shields. At this special time, adding a sneeze guard to any point-of-sale countertop is a protective way to further protect your employees and customers. Sneeze guard is made up of glass or acrylic. As a clear physical barrier, it can protect against bacteria and germs. The round corners of sneeze guard can avoid collision perfectly. The color of sneeze guard is clear, it will not impede vision and the cutouts in the bottom allow documents, money and small items to pass from person to person. It is also light weight enough to be moved and easy to assemble, you can put it in office, convenience, bank and any interaction areas. The only thing you should pay attention is that do not use Windex or generic cleaning products, or you will damage the material. Please use soap and water or a diluted mixture of water and rubbing alcohol or water and bleach.
This protective barrier is perfect for convenience stores, food markets, banks, reception desks, hospitals, or doctors' offices. Our acrylic counter top cashier shield is a great way to help lower the chances of transmitting viruses during everyday business transactions. Create a clean and comfortable work environment for your customers and staff year-round with this affordable and portable barrier!
As a one-stop retail shop shelving supplier – Hshelf also supply customized guards. you can choose the size you need so that the guard can perfectly compatible with the place you want to put it. The best time to buy sneeze guard is NOW.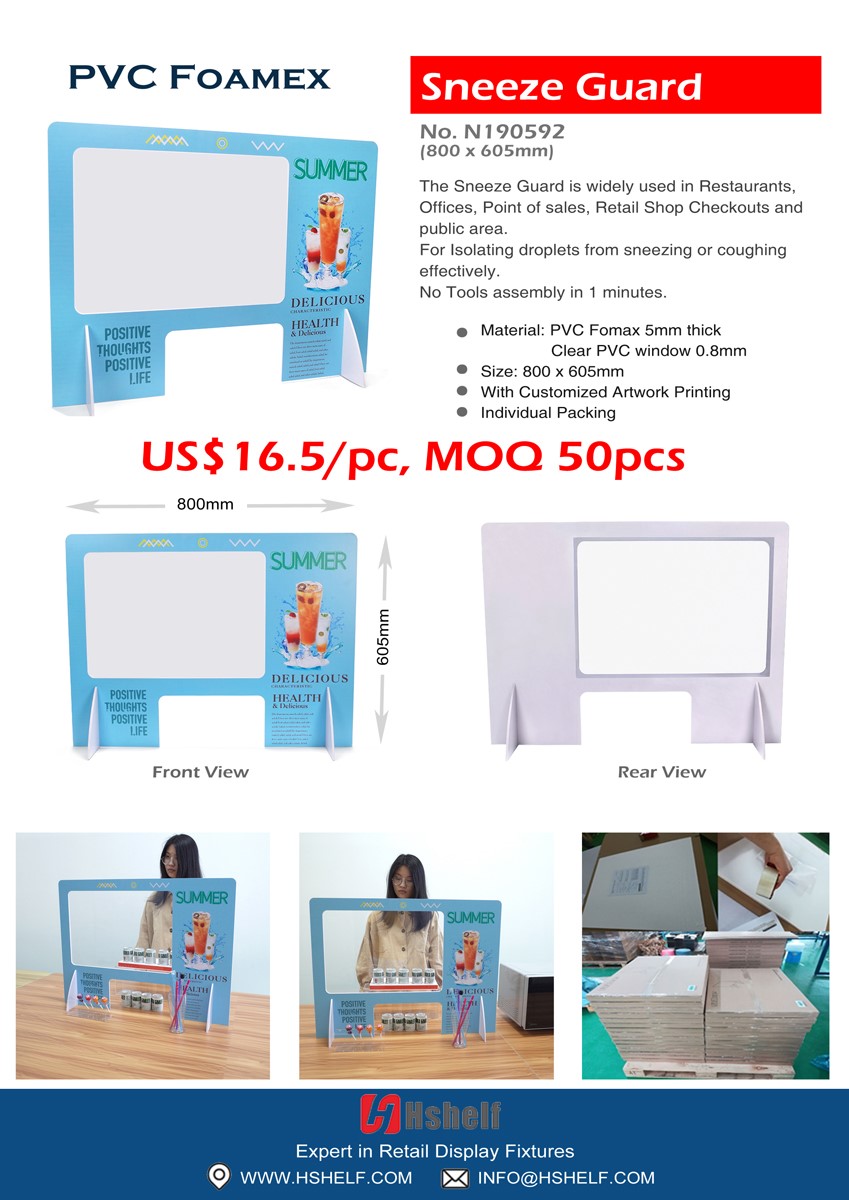 What does sneeze guard mean?
Sneeze guard is also called protective barrier & protection screen & protective shields. It includes a solid acrylic panel with a notch that is large enough to pass through paperwork, documents, hotel registration info, keys, tickets and more. It can be a physical barrier that protect against bacteria and germs.
Where to use a sneeze guard?

As a clear physical barrier, sneeze guard is perfect for convenience stores, food markets, banks, reception desks, doctor offices and other interaction areas.
When to use a sneeze guard?
For COVID-19 (The Corona Virus) has been affecting people's lives all over the world, the best time you use a sneeze guard is NOW.
Why you choose sneeze guard?
Sneeze guards will help prevent contamination by securing and minimizing air-flow into your work area. Available in many stock and custom sizes to suit your work space. Clear acrylic is completely transparent so your vision is not inhibited in any way. Small gap on the bottom to allow transactions while still providing minimal contact, keeping you safe and secure.
WHY YOU CHOOSE HSHELF?
Hshelf specialized in retail shelving solutions, targets for the high-end market & brand customers. We connect millions of sellers and buyers in 40 countries & areas and bring them high-quality services and products. With 15 years' experiences to make OEM shelving parts for world-famous brands and manufacturers around the world, Hshelf will work closely with you to create custom solutions to your unique storefront needs. Our goal is to bring you not only a superior product, but smoother operations for your expanding business as well. We are always READY FOR YOU.
If you are now looking for some way to prevent the virus, you've come to the right place! Just connect me at support@hshelf.com.