Nowadays, with the raging of Corona Virus (COVID-19), it is particularly important to do a good job of cleaning and disinfection. There is a useful and benefit tool--hand sanitizer dispenser stand to help us keep cleaning in the public places.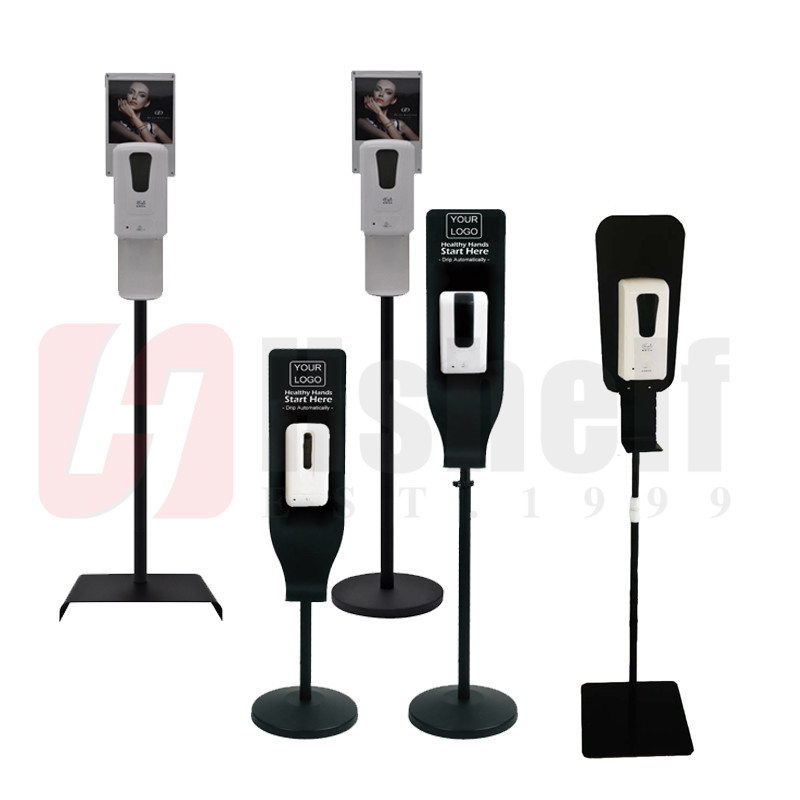 Working Principle Of Hand Sanitizer Dispenser Stand
Sanitizer stand holder's working principle adopts the method of hand induction. The driving device drives the sliding plate to compress the liquid storage elastic body to flow out the soap liquid. When the hand is away, the signal disappears and the driving force disappears. Prepare for the next fluid supply. By repeating the above-mentioned sensing action, you can continue to obtain the soap liquid discharged in a fixed amount.
Main Advantages Of Hand Sanitizer Dispenser Stand
The sanitizing station stand has many advantages, now I introduce five of it.
1. Induction plus foam type, non-contact, to avoid cross infection. Strong anti-interference, hand out foaming liquid soap automatically.
2. Foam liquid-dispensing type, 0.4 ml of liquid is accurately dispensed each time, and the dosage is more economical (saving 150%).
3. Plug-in design, you can use dry batteries or plug-in use.
4. Separate pumps, to avoid the defects of other similar products, the pumps are broken; the pump's discharge times are more than 650,000, and the life is more than 10 times that of other products.
5. Anti-theft design, one lock and two uses. Floor standing sanitizer dispenser stand can not only protect the built-in liner and prolong its service life, but also lock the liner, battery and hand sanitizer in the body to avoid loss.
Hand Sanitizer Dispenser Stand With Drip Tray
Hshelf, a supplier for hand sanitizer dispenser with floor stand in China, is reliable that we sold out more than 20000 units to USA, UK, Italy, Australia in March & April. Hand sanitizer dispenser stand with drip tray adopts the design of free standing, automatic sensor, and steel base. Most importantly, it is power saveing that it just need powered by 4 pack of C batteries, a reliable device with a longer life. If you wanna learn more about it, please click:
Free Standing Hand Sanitizer Dispenser with Floor Stand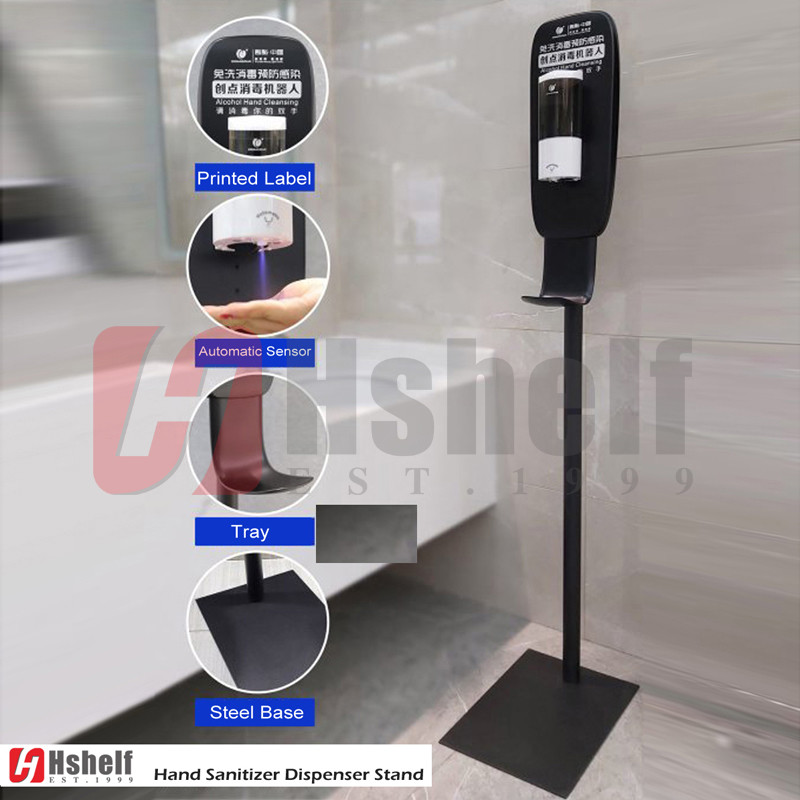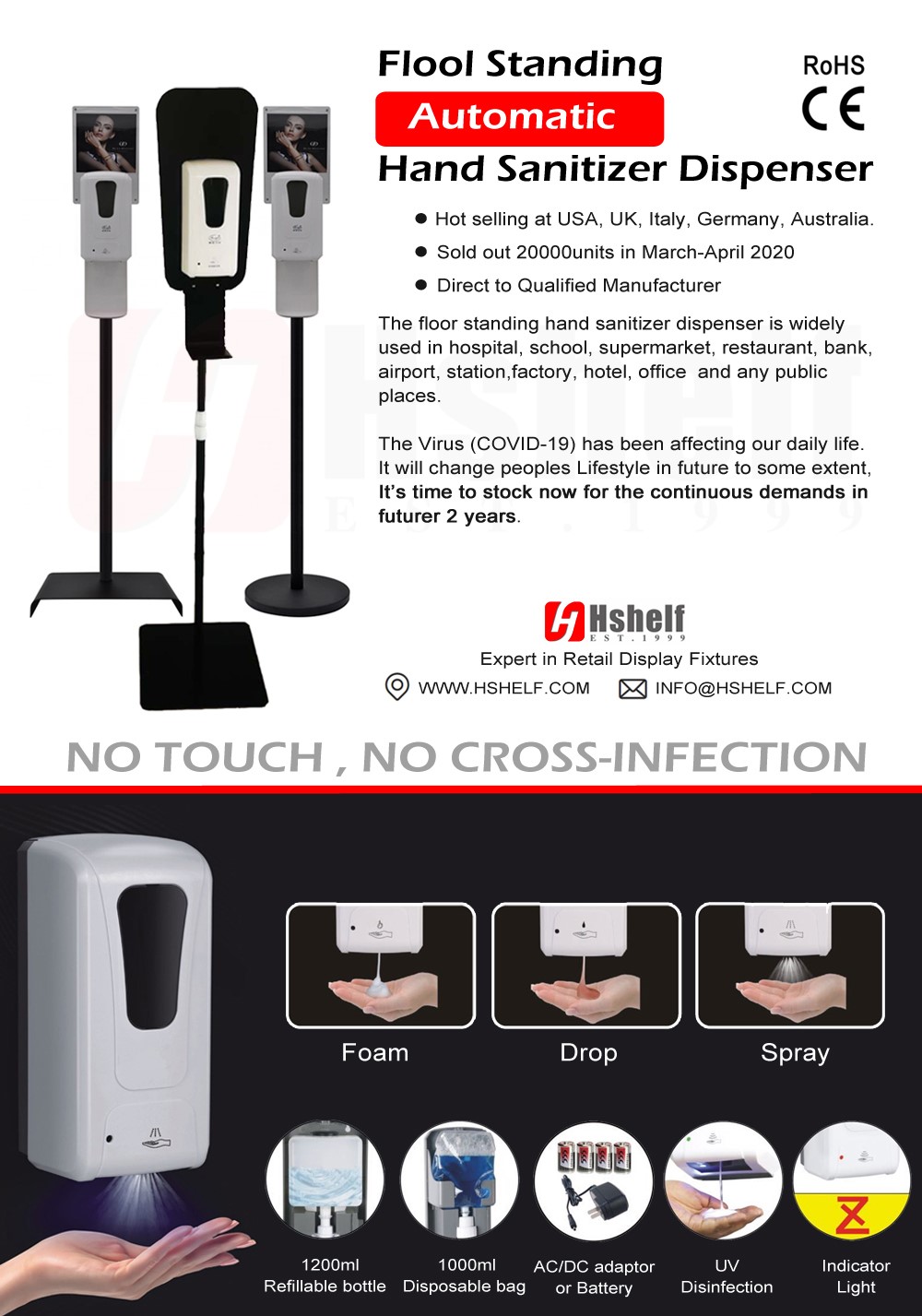 Conclusion
Hand sanitizer dispenser stand is a cleaning appliance widely used in public places such as hospitals, food processing plants, schools, office buildings, hotels, restaurants, municipal projects and so on.