Recently, Hshelf had launched a new sanitizer dispenser stand, the automatic floor standing hand sanitizer dispenser HSD1508. You known, the Coronavirus disease COVID-19 has still affecting people's daily life worldwide. So, how to effectively prevent of virus infection becomes particularly important. Floor standing hand sanitizer dispenser can be placed in the public places, helping people wash hands conveniently and quickly. It is a useful tool to protect people from the virus to a certain extent.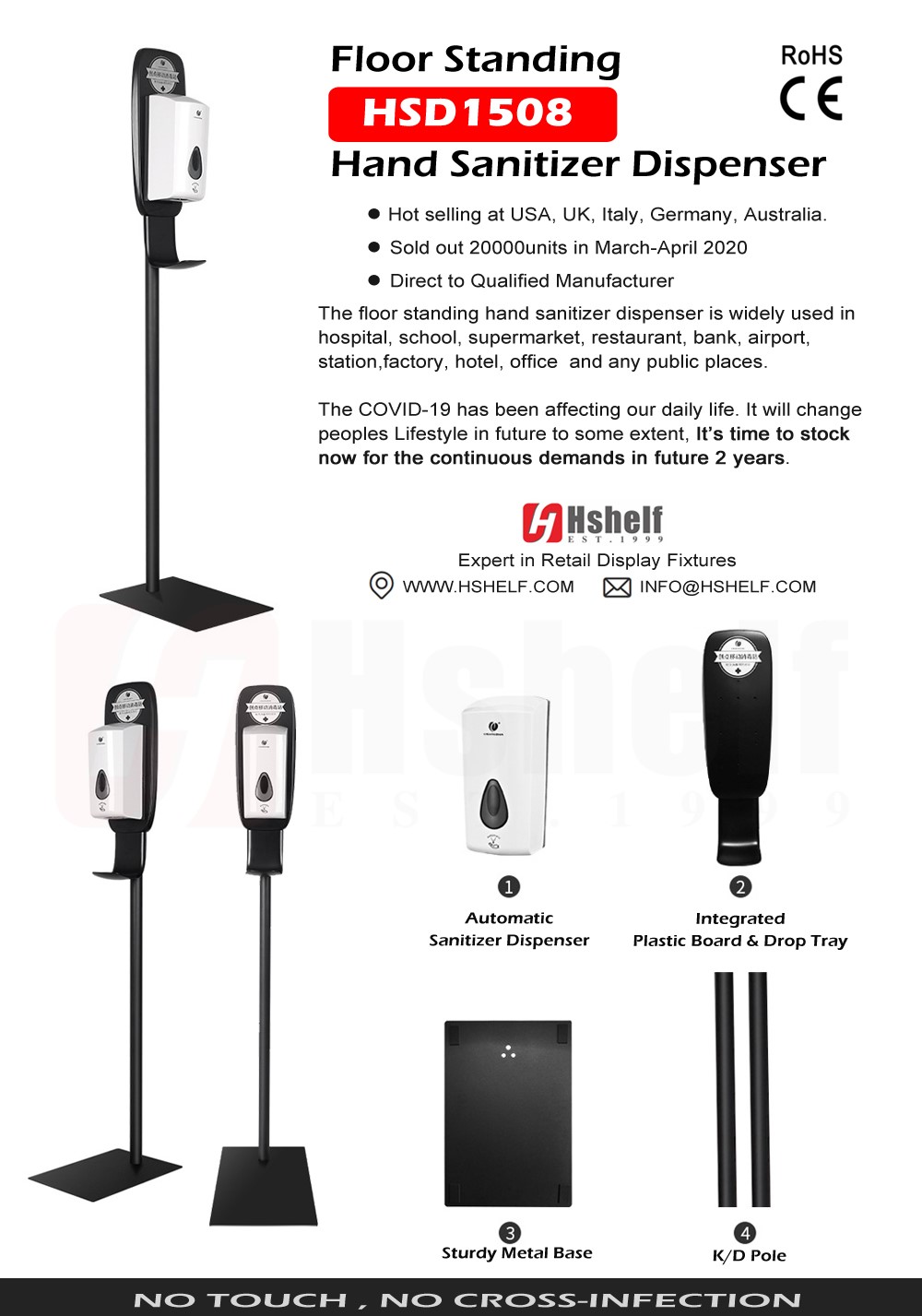 Tips for choosing a suitable sanitizer dispenser stand
How to choose a suitable sanitizer dispenser stand? You can consider from the following aspects.
First, it is related to the user's environment. For example, in the back kitchen of a restaurant, the processing workshop of a food processing factory, etc., considerable moisture and water stains will occur. In such a humid environment, the raw material requirements of the hand disinfection machine are more engaged, such as the moisture is long, Rust stains will occur, and the raw materials may be transformed when the environment is relatively wet. For those places with high hygienic requirements, when selecting hand disinfection machines, it is necessary to look at the raw material problems of the disinfection machine.
Second, it is related to the specific place where the user uses. For example, the hand disinfection requirements are not very high, but only the hand disinfection after meals and toilets, then the hand disinfection machine requirements should strive to be more cost-effective.
Third, the scene that can often interact with the user. For example, to equip hand disinfection machines in colleges and universities, most of them are in frequent contact with students. Then, when selecting hand disinfection machines, it is necessary to carry a large volume of disinfectant container, because there are many students in colleges and universities. Once, the pressure on the disinfectant is conceivable, and the consumption of the hand should be shortened as much as possible at the time of hand disinfection.
Why choose Hshelf automatic hand sanitizer dispenser HSD1508
The load capacity of most disinfectant containers on the market is about 1000ml-2000ml, and the price generally increases with the increase of the volume of the disinfectant container. Hshelf' s floor standing hand sanitizer dispenser HSD1508 allows customization to meet your need in any occasions. The advantages are as following.
Automatic Floor Standing Hand Sanitizer Dispenser supplier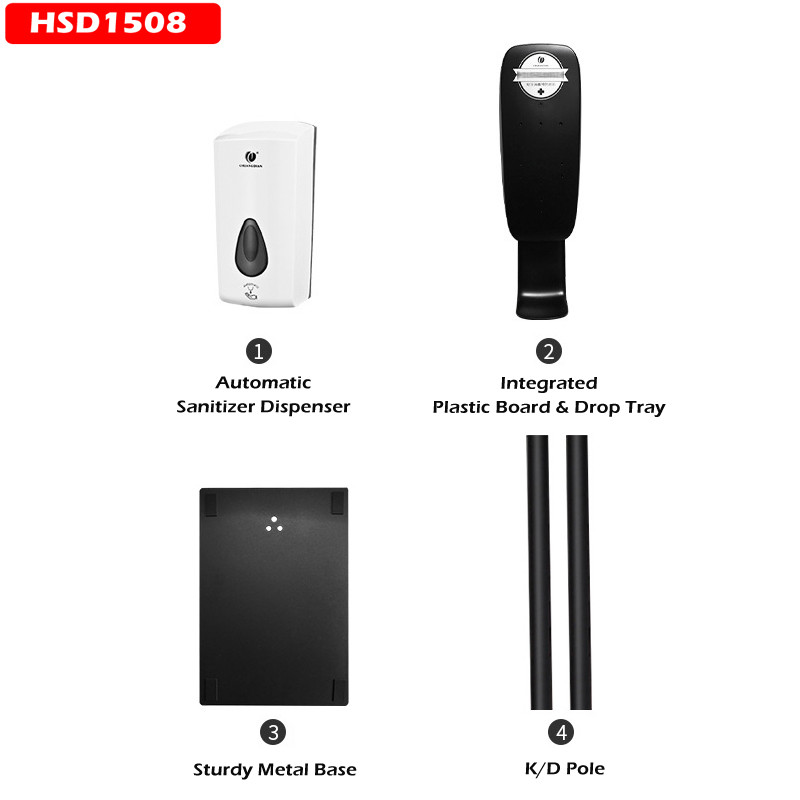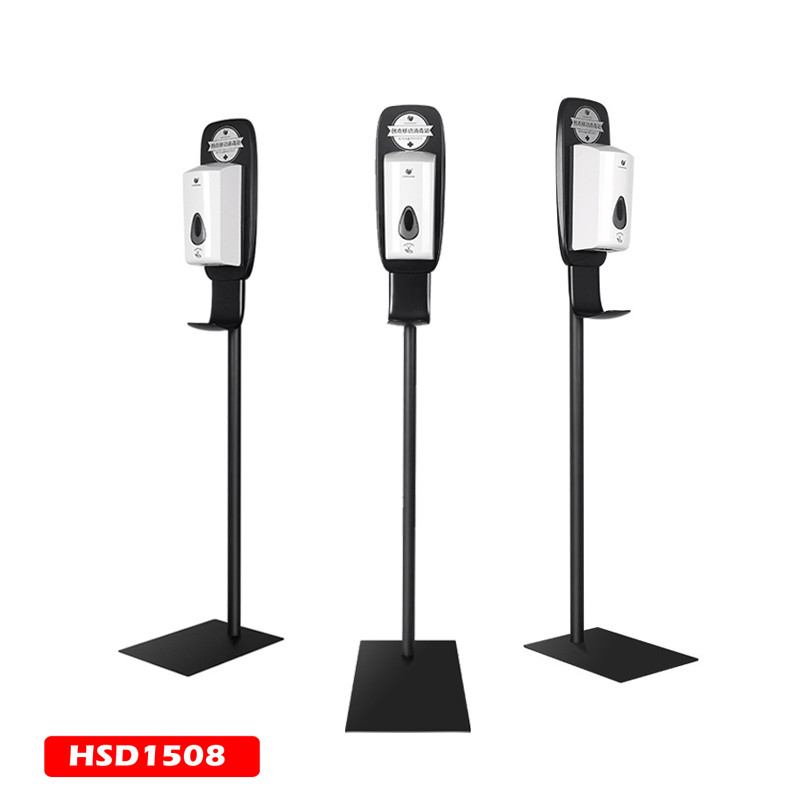 Firstly, it is assembled simple and easily, just need several steps. You can view the product page to watch the installation video. Powered by 4 pack of C batteries, the automatic hand sanitizer dispenser can serve for a long time. What' s more, sturdy metal base with adjustable aluminum pole k/d design, makes it is very suitable for public places use. Also adopts integrated plastic board with drop tray, this hand sanitizer dispenser with drip tray is perfect designed.
Secondly, this commercial hand sanitizer stations oriented are sold with a nice price. Made by ABS plastic and designed to nebulize hand sanitizer or alcohol, compact body and convenient operation way, it can be widely used in school, hotel, church, factory, office, supermarket, shopping mall and other public area, provide a good solution for public hygiene with its efficiency and convenience in hand washing and disinfecting.
Thirdly, it is a touch-free hand sanitizer dispenser. Automatically operating feature makes it avoiding virus cross infection effectively.
In the past several months, Hshelf becomes the major supplier for hand sanitizer dispenser with floor stand in China, we sold out more than 40,000 units to USA, UK, Italy, Australia in March & April. We are trustworthy and will give you a nice price and quickly shipment of this new floor standing hand sanitizer dispenser.