For one thing, we've all walked into retail stores, whether those that sell clothing, home goods, or home improvement products, that lacked order and organization. Unfortunately, for most consumers, a disorganized retail store can mean the difference between a purchase or leaving to visit a competing store. Retail store managers know that it is essential that customers can easily and quickly locate the product they are looking for without having to sift through overstuffed shelves.
For the another, outfitting your store with the proper fixtures and layout can be overwhelming. You want something sturdy and high quality that won't damage easily and always looks professional. But it also needs to adjust to ever-changing inventory and layout updates.
Therefore, merchandisers across the world have found the solution to their display woes: slatwall. From large department stores to neighborhood boutiques, slatwall systems take the stress out of organizing and designing retail layouts. Slatwall has demonstrated to be a dependable, reasonable arrangement that is useful, rich, and financially savvy. And it's one of the most popular store fixtures in every retail business space.

Walk into most any retail space today and you are likely to see some form of slatwall system. Slatwall can be free standing, or it can be in wall panel form and shelving panel form. Designed with a number of grooves and slats, slatwall is extremely versatile and customizable to fit the specific needs of a retail space, making it a must-have for most store owners. Slatwall can hold bins, shelves, and racks, depending on the needs of a store.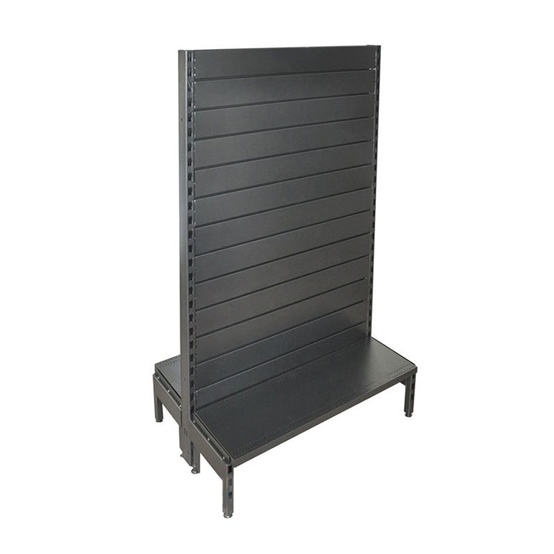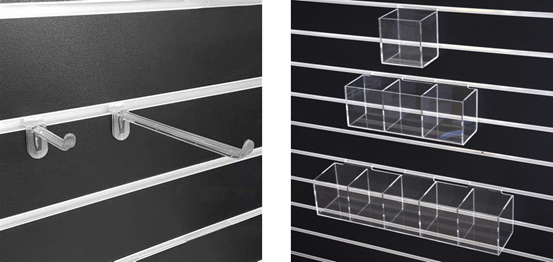 Versatile
There is no single right way to use slatwall. They can be used to display clothing, candy, brochures, body care products, and much more. Its versatility, which enables it to hold racks, shelves, bins, and more, means it can cross boundaries in terms of the merchandise it is used for. Customers can conveniently browse clothing hung on racks held up by slatwall, quickly locating the size and style they need. Or, customers can peruse a wall-full of shoes with total visibility thanks to shelves supported by slatwall. The possibilities don't end there, as slatwall is a fixture in many other types of stores including jewelry stores, convenience stores, and hardware stores, among the long list.
Durable
The slatwall has an impressive life expectancy, is difficult to damage, and can hold heavier merchandise than other fixtures, especially when metal accessory rails are inserted into the channels.
Affordable
With its variety of uses and versatility, slatwall is a great bang for your buck. The basic, no frills slatwall panels are priced fairly low. Higher rated boards with custom finishes will fetch a higher price tag, however.
Customization
Between the assortment of finishes, sizes, shapes, and types of attachments, you can create a retail display unique to your business and its needs. One of the big draws to slatwall for retail spaces is that it is highly customizable in its appearance. This offers endless opportunity for in-store branding, allowing managers to create a unique shopping environment specifically catered to their target customer.
Convenience
You won't need your toolbox with slatwall displays. Once you've assembled your fixtures and panels, all you have to do is hook on your attachments to start merchandising.